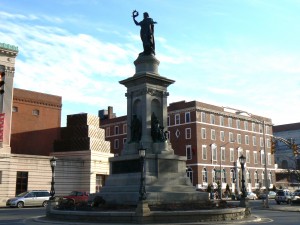 The elaborate Civil War monument at the west end of Waterbury's green was dedicated in 1884 to honor local residents who served in the conflict, and, uncommonly among monuments of the era, addresses some of the social changes brought about by the war. 
The monument, nearly 50 feet tall, is topped by an allegorical statue representing Victory. She stands atop a granite column that features four bronze statues representing the fact that people from all walks of life participated in (or were affected by) the war. 
The west face, for instance, features a farmer clutching a rifle. On the north side, a seated soldier, with bedroll and rifle handy, is resting. The east face features a laborer with a sword in his hand. 

The sculpture on the south face makes a rare reference to the emancipation of slaves by depicting a woman with a book reading to two children — one is white, and the other is African-American. This represents the new educational opportunities possible since the  elimination of slavery. 
The west face also features a bas-relief sculpture depicting a pitched battle, and the east face displays the naval battle between the ironclad ships the Monitor and the Merrimac. 
The south face carries a dedication "in honor of the patriotism and to perpetuate the memory of the more than 900 brave men who went forth from this town to fight in the war for the Union, this monument has been erected by their townsmen that all who come after them may be mindful of their deeds, and fail not in the day of trial to emulate their example."
The north face bears a somewhat florid poem written by the Rev. Dr. Joseph Anderson:
Brave men, who rallying at your country's call,

Went forth to fight, if heaven willed, to fall!

Returned, ye walk with us through summer years

And hear a nation say, God bless you all!

Brave men, who yet a heavier burden bore,

And came not home to hearts by grief made sore!

The call you dead, but lo! Ye grandly love,

Shrined in the nation's love forever more!
The traffic island hosting the monument (a location that hinders careful examination or photography) features four lampposts with shafts that are shaped like cannons with rifles leaning against them.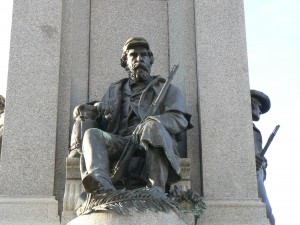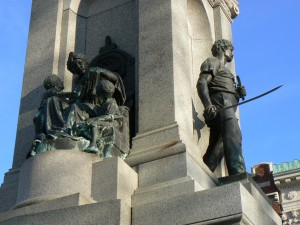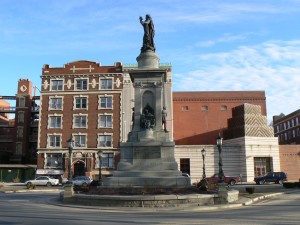 Source: CHS: Civil War Monuments of Connecticut
Tags: waterbury