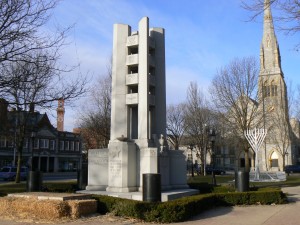 A 1958 granite memorial to veterans of all wars stands at the center of Waterbury's green. The monument features a multi-faceted base, above which four columns rise. The columns are connected by granite blocks with engraved emblems of the service branches that are varied on the different sides to prevent favoritism among the branches. 
The east face of the monument bears an inscribed dedication "in honor of all those who served in the wars of our country. The inscription is flanked by markers bearing the names and dates of the American Revolution as well as the conflicts in Korea and Vietnam. 
The north face honors the War of 1812 and the Mexican War; the west face honors the Civil and Spanish-American wars; and the south face honors the two World Wars. The north, west and south faces also feature stone eagles sitting above the shield of the United States.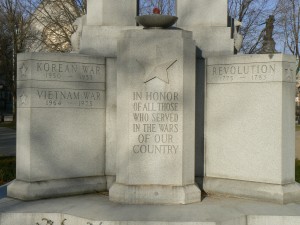 The large round black items near the base of the monument are spotlights, although at a casual glance, they may look like trash cans. The monument is also surrounded by a low evergreen hedge.
Near the War Memorial is a Freedom Tree flanked by two sets of monuments in honor of service members who were declared missing in action during in Korea and Vietnam. The Korea monument has four names, and the Vietnam monument has two. 
These images of the war memorial were taken in mid-February, when a large menorah still graced the green. The Civil War monument in the background of some images sits at the west end of Waterbury's green, and will be profiled on Wednesday.