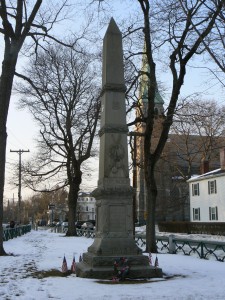 A tall obelisk in the middle of a small Norwich park honors the members of the 26th Regiment, Connecticut Volunteer Infantry, who served in the Civil War in late 1862 and mid-1863.
The monument, dedicated in 1902 in Little Plain Park (between Broadway and Union Street), is a obelisk divided into several sections by ornamental details. A dedication on the monument's south face reads "To the memory of the 26th Regiment Conn. Volunteer Infantry."
Just above the dedication, the south face also bears the name "Port Hudson" and a pair of crossed rifles with a wreath, symbolizing the regiment's service in the infantry. A cross-like symbol appearing on all four sides of the monument is likely a regimental or a corps emblem.
The north face bears some statistics about the unit, listing its original enrollment of 825 members and a breakdown of its 278 casualties: 52 killed in action, 142 wounded and 84 died in service (mostly likely from disease).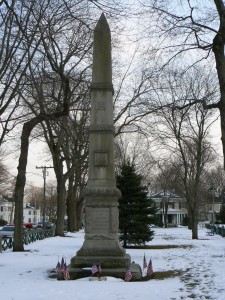 A regiment comprised primarily of Norwich residents, the 26th's major engagement was the siege of Port Hudson, La., between May 21 and July 9, 1863. The capture of Port Hudson, together with the capture of Vicksburg, Miss., a few days earlier, gave Union forces effective control of the Mississippi River and provided an important turning point in the Civil War.  
The 26th was organized in Norwich on Nov. 10, 1862, and arrived in New Orleans on Dec. 16. The unit first served at Camp Parapet, a former Confederate fort north of New Orleans that had been captured by Union forces. The unit was shifted to the siege of Port Hudson on May 24, and participated in two ill-fated assaults (on May 27 and June 14) that produced no military benefit for the Union, but did create a large number of casualties. 
When word reached Port Hudson on July 9 that Vicksburg had surrendered to Union forces on July 4, the Confederate leaders at Port Hudson similarly surrendered.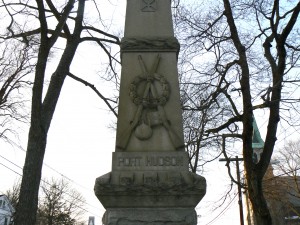 Sources:
Connecticut Historical Society: Civil War Monuments of Connecticut
Wikipedia – Siege of Port Hudson
Tags: Norwich