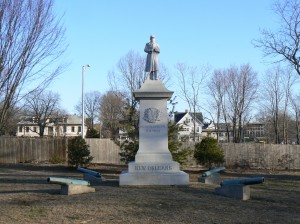 A 1903 granite monument dedicated to a Civil War regiment comprised primarily of Irish Americans stands in New Haven's Bay View Park.
The 9th Regiment Connecticut Volunteers monument is located in a park that served as the unit's training ground and home for a few months following its formation in 1861. A caped infantryman stands with a rifle atop a short granite pillar.
The front (south) face of the monument bears the Connecticut state seal above the name of the regiment and "1861-1865". The base of the monument also lists the battle of New Orleans.
A bronze plaque on the east face lists nearly 100 names of unit members who died in service as well as the battle of Baton Rouge. The north face lists nearly 80 names and the battle of Cedar Creek (Va.), and the west face lists nearly 85 names as well as Fishers Hill (Va.)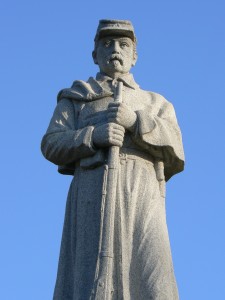 The vintage postcard below shows the monument has undergone several changes since its 1903 dedication. Originally, the monument's decorative elements were painted gold. Looking closely at the monument, some traces of the gold paint remain. For instance, look at the period (click to enlarge the images) in "Regt." and the dash between 1861 and 1865.
In addition, the monument was moved from its 1903 location in 1950. Route 1, which runs near the park, was re-routed to accommodate the construction of Interstate 95. This construction in turn prompted changes to the park and the monument, which originally stood at the east end of the park, closer to the harbor (probably on the site of the aquaculture school).
Finally, the four cannons were removed from their carriages and re-mounted on concrete bases. The cannons are original Civil War 12-pounder Dahlgren guns, which were naval cannons known as "boat howitzers" that could be mounted on carriages and brought ashore for land use.
A new monument honoring the 9th Regiment was dedicated in October 2008 at the Vicksburg National Military Park. More information about the regiment's history and the new monument is available here.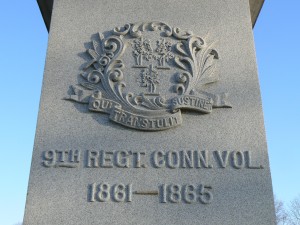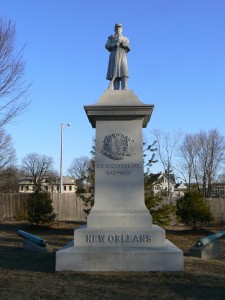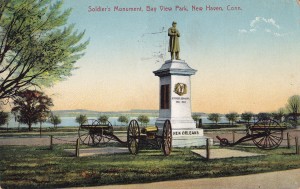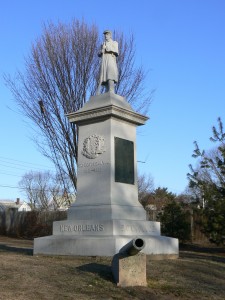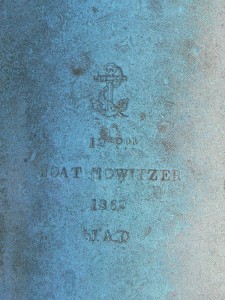 Source:
Connecticut Historical Society: Civil War Monuments of Connecticut
Tags: New Haven