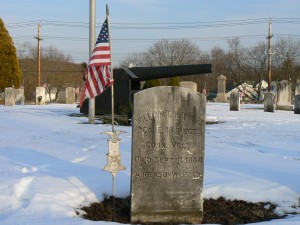 A large Civil War cannon is featured in a section of Norwich's Yantic Cemetery is dedicated to veterans including nine residents who died as prisoners of war in the Confederate prison at Andersonville, Ga. 
The nine Norwich veterans who died in the prison were reinterred in Yantic Cemetery on February 1, 1866 after a day of ceremonies that included a parade. The nine graves are arranged in a circular pattern, and several other veterans of the Civil War and later conflicts were added to the area in later years.  
A marker near the cannon  explains that 15 Norwich residents died in Andersonville. Norwich, the first northern city to retrieve its Andersonville dead, sent representatives to the site after the war. Only the 10 who could be identified were returned to their native city. Nine were reburied in Yantic Cemetery, and one was reburied in his family's plot in the city's Center Cemetery.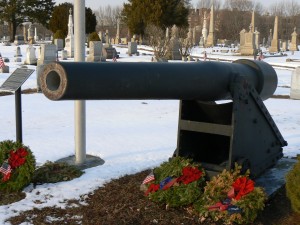 The cannon (a 4.2 inch, 30-pounder Parrott Rifle manufactured in 1862) has been painted several times over the years, but recently layers of paint were scraped away on the muzzle and barrel to reveal markings by its manufacturer.
Camp Sumter, the Confederate name for the prison constructed in Andersonville, Ga., opened in February 1864 to house Union prisoners of war. The site was enlarged in June of that year, and by August, more than 33,000 prisoners were being confined in a 26.5 acre site largely without shelter or sanitary facilities. Large numbers of prisoners were moved from Andersonville in late 1864 during Sherman's raids on Georgia, and the population eventually settled down to an average of about 5,000.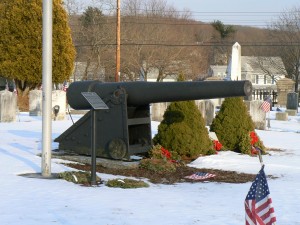 By the end of the war, nearly 13,000 Union soldiers had died from disease, malnutrition and exposure to the elements. 
The site of Camp Sumter has been restored and is maintained by the National Park Service. The site also features the National Prisoner of War Museum and an active National Cemetery.
An "Andersonville Boy" statue honoring Connecticut residents who died in captivity was erected in 1907 on the former prison site. A contingent of 103 prison survivors traveled to Georgia for the dedication ceremonies. A copy of the statue stands on the grounds of the state capitol complex.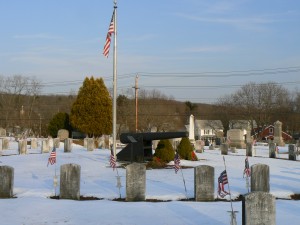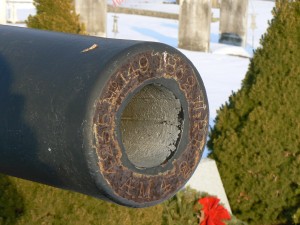 Sources:
Connecticut Historical Society: Civil War Monuments of Connecticut
Andersonville National Historic Site (National Park Service)
Tags: Norwich