A boulder on Main Street in Danbury commemorates the burning of several local buildings by British forces who invaded the city on April 26, 1777. 
After landing in Westport the day before, about 2,000 British troops entered Danbury with plans to attack war supplies being stored in the city. The troops destroyed food, medicine and ammunition, including a large grain-packed barn on Main Street that was burned.
The troops were also ordered to destroy a supply of local rum, but chose instead to drink it.
British General William Tryon (who would invade New Haven two years later) received a warning that Continental militia forces were in Bethel and planned to attack the troops. Tryon gathered his forces and began to evacuate Danbury. As they were leaving the city, the troops began burning houses of Continental supporters. All told, they burned 19 homes, and 22 storehouses and barns, in the city.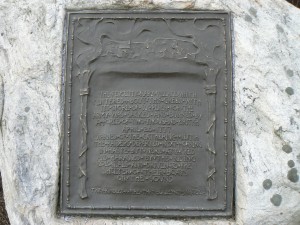 The Connecticut militia sent forces from New Haven and Fairfield, who united under the command of Gen. David Wooster. After discussions in Bethel, about 400 troops commanded by Benedict Arnold (who hadn't yet turned traitor) and Selleck Silliman set up a roadblock in Ridgefield and Wooster circled around to attack the British from the rear. 
During fighting near Ridgefield, Wooster was killed by a musket ball that struck his back.   Arnold's troops provided fierce resistance before being repelled by the British forces. The militia then launched a series of small skirmish attacks as the troops retreated to Westport and the safety of their ships, which they reached on April 28. 
In Danbury, the invasion is marked by a boulder that sits in a small park on Main Street. The monument, not far from the city's 9/11 memorial, has a bronze plaque that summarizes the battle. In part, the plaque reads "The Revolutionary Village which centered about this green with its store of supplies for the army was sacked and burned by a force of two thousand British, April 26, 1777."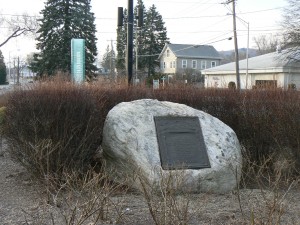 Wooster, a native of Stratford (where a middle school is named after him), is buried in Wooster Cemetery, which is not far from the invasion monument. His grave is marked by a tall reddish obelisk that was erected by the Masons in 1854. The front (south) face bears a bas relief image of Wooster's death. The east face has an image with symbolism that escapes us. The north and west faces have biographical information about Wooster's life and contributions to the young United States as well as to the Masons.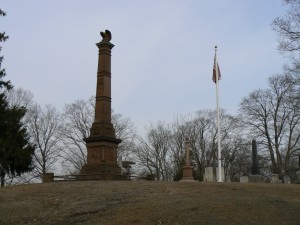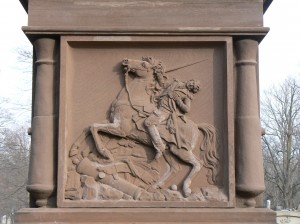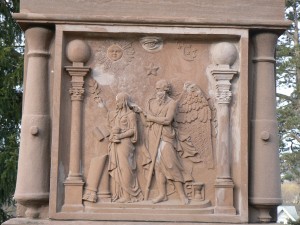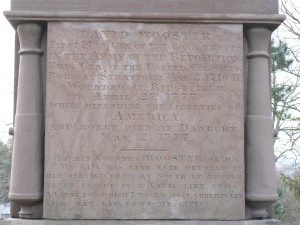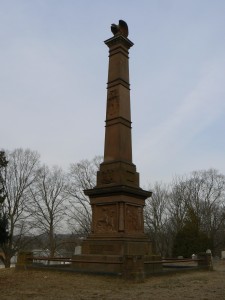 Source:
Connecticut by Albert E. Van Dusen (Random House, 1961)
Tags: Danbury