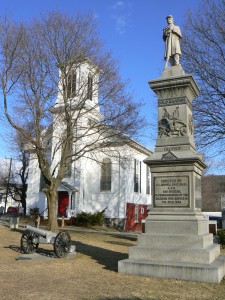 Thomaston's Civil War monument, dedicated in 1902, stands in a small park surrounded by monuments to the two World Wars and the conflicts that followed. 
The Soldiers' Monument is a multi-layered, square granite shaft topped by a caped infantryman holding a rifle by its barrel. The front (west) side of the shaft bears the dedication "Erected by C.L. Russell Post, No. 68, G.A.R. and citizens, in commemoration of the soldiers who served in the Civil War." (The G.A.R. refers to the Grand Army of the Republic, the post-Civil War veterans organization.) 
The west face also bears an ornate symbolic eagle in front of two crossed flags, and the battle of Cold Harbor (Va.) is displayed just below the infantryman's feet.  
The south face commemorates the battle of Gettysburg and features an ornate wreath. The east face honors the battle of Cedar Creek (Va.) and displays the seal of the state of Connecticut. The north face bears a GAR medal and commemorates the battle of Appomattox (Va.), the site of General Lee's surrender. 
An 1863 cannon stands to the north of the monument, and a later-vintage cannon (perhaps from World War I) stands on the south side of the monument.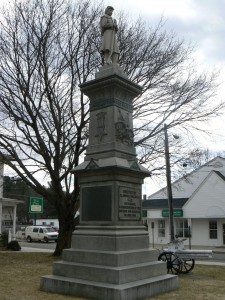 Behind the Civil War monument, a large granite memorial honors veterans from World War II, Korea, Vietnam and in the Persian Gulf. Several bronze plaques list local residents who served in these conflicts, with the World War II monument listing an estimated more than 1,200 names among its five columns. The Korean conflict plaques list more than 165 names, and the Vietnam plaques list an estimated 225 or so names. 
The southwest corner of the park features the World War I Roll of Honor, which was dedicated "by the town of Thomaston to those who served their country in the World War."
The Roll of Honor monument, which has an iron fence in front of it, also bears a quote from President Woodrow Wilson reading "in a righteous cause they have won immortal glory and have nobly served their nation in serving mankind."
The monument also features a stylized representation of Liberty standing between a soldier and a sailor, who are surrounded with symbolic flourishes including an airplane, a lighthouse, a cannon and other decorative elements.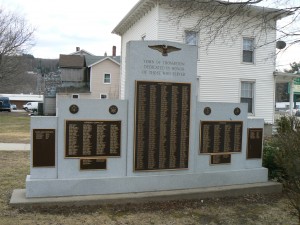 Below these elements is a bronze plaque with four columns of names honoring members of the Army, Navy, Marines and, in an uncommon but rather nice touch, 10 Red Cross and Army nurses.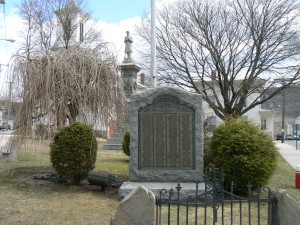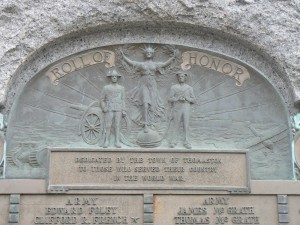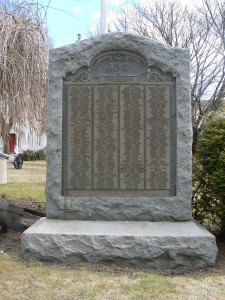 Source:
Connecticut Historical Society: Civil War Monuments of Connecticut
Tags: Thomaston