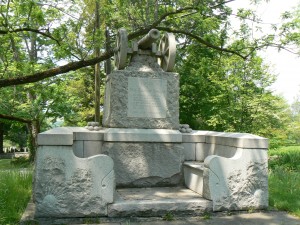 The 1885 Soldiers' Monument at the northwest corner of Sharon's town green is the only Civil War monument in Connecticut topped with a granite sculpture depicting a cannon.
The distinctive monument was also among the first of the state's monuments to feature a curved bench at its base (the 24th Regiment monument in Middletown has a similar bench).
The front (east) face of the monument bears the dedication "Erected by the town of Sharon in memory of the brave men who enlisted from this township in the war of the rebellion and fell in the struggle to maintain the Union."
The north, west and south faces list a total of 28 residents lost in the conflict.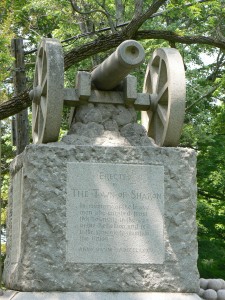 According to a Sharon Historical Society newsletter, the cannon was damaged in the mid-20th century by local youths climbing on the monument. The granite cannon was replaced by a wooden replica, and was restored and returned to the monument in 1998. (The Connecticut Historical Society monument survey that helped inspire this blog describes the wooden cannon's spongy condition in the early 1990s.)
At time of our Memorial Day weekend visit, a local bee had started constructing a nest in the depression marking the cannon's muzzle.
The monument was designed by Emily O. Wheeler who, with her sisters, also designed the 1884 stone clock tower about four-tenths of a mile south, at the intersection of Main Street (Route 41) and Cornwall Hollow Road (Route 4).
An undated modern-era war memorial, across the street from the clock tower, has 13 granite panels listing local residents who served and died in wars ranging from the American Revolution to Desert Storm.
We're not sure why, but there are differences between the listings found on the Soldiers' Monument and the modern memorial. The newer memorial includes 35 names, compared with 28 names on the 1885 monument (which in turn lists three names not included on the newer memorial).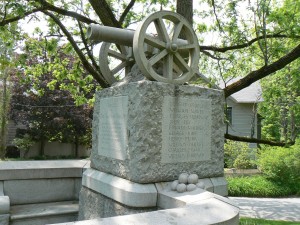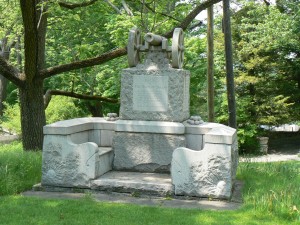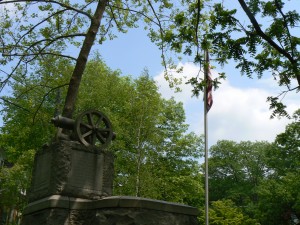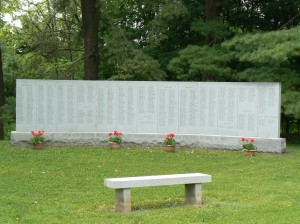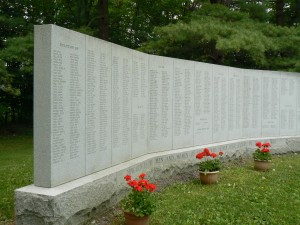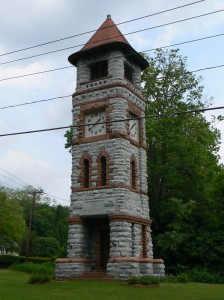 Sources:
Connecticut Historical Society, Civil War Monuments of Connecticut
Tags: Sharon