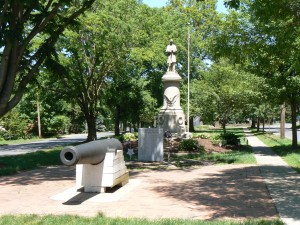 A resting infantry soldier stands atop a circular-shafted monument dedicated in 1902 in Wallingford's Dutton Park.
The granite monument features a variety of shapes and ornamental details in its different sections. For instance, the monument's square base is topped by an eight-sided band that in turn gives way to a cone-shaped cylinder. The infantry  soldier stands atop a round base.
The monument's front (south) face bears the dedication "Erected by Arthur H. Dutton Post No. 36 G.A.R. and the people of Wallingford to the memory of the brave men who died that their country might live," as well as ornate carved wreathes inscribed with the Civil War years. (Similar wreaths on the monument honor the Army and the Navy.) The south shaft also bears a carved eagle.
The east face lists the battles of Antietam (Md.), Gettysburg, Cedar Mountain (Va.) and Morris Island (S.C.).
The north face lists the battles of Atlanta, New Orleans, Port Hudson (La.) and Appomattox (Va).
The west face lists the battles of New Berne (N.C.), Fort Fisher (N.C.), Chancellorsville (Va.) and Petersburg (Va.)
A granite memorial stone placed in front of the monument lists the names and regimental affiliations of  24 Wallingford residents killed in the Civil War. The memorial is not dated, but was clearly added after the larger monument was dedicated.
The cannon at the south end of the park was cast in 1830 at the West Point Foundry in Cold Spring, N.Y.
A triangular planting bed immediately north of the Soldiers' Monument honors local residents who fought in the American Revolution. Plaques mounted in the base of the nearby flagpole honor local veterans' organizations.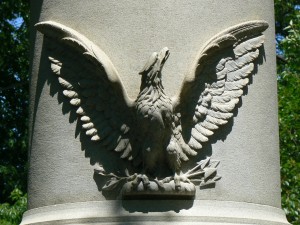 A monument at the north end of the park honors residents who fought and died in the Vietnam War.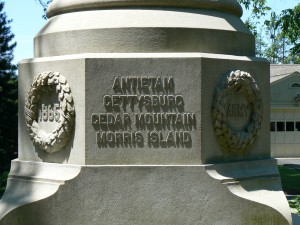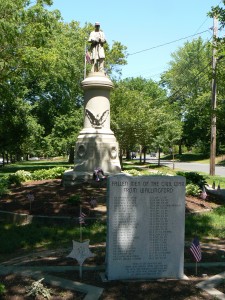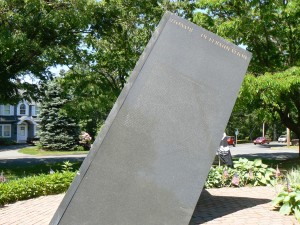 Source:
Connecticut Historical Society: Civil War Monuments of Connecticut