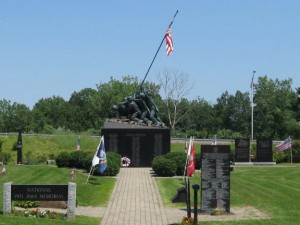 The more than 6,800 Americans killed in the World War II battle for the island of Iwo Jima are honored at the National Iwo Jima Memorial on the Newington/New Britain border.
The monument, dedicated in 1995 by the Iwo Jima Survivors Association, is similar to the Marine Corps War Memorial in Arlington, Va. Both were based on an AP photograph depicting the raising of the American Flag over Mt. Suribachi on Iwo Jima by five Marines and a Navy hospital corpsman.
The Connecticut monument, which is almost 40 feet high, includes a  bronze statue of the servicemen raising a 48-star flag. Rocks from Mt. Suribachi surround the figures' feet, and sand from the invasion beach has been incorporated into the monument's concrete.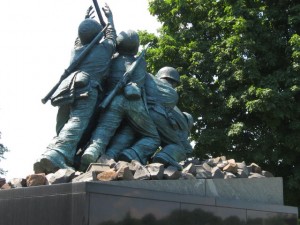 The front (west) face of the monument's polished granite base lists Connecticut residents killed in the fight for Iwo Jima. The back of the base includes information about the battle, and lists the names of the servicemen depicted in the statue as well as those of the 27 men who received the Medal of Honor for their actions during the nearly month-long battle.
The north and south sides include engraved images from the battle, quotes about its significance and a map of the island.
The monument, visible from Connecticut's Route 9, also has two granite monument honoring the service of the Medical Corps and military chaplains in the battle. An eternal flame burns from a black granite torch base north of the monument.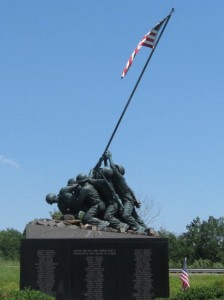 Thanks to Dad for contributing the images for this post.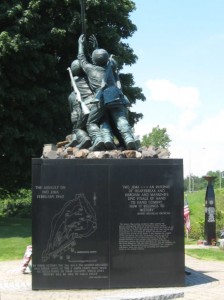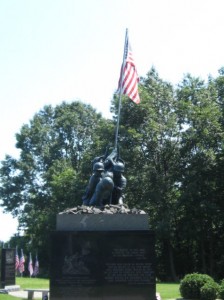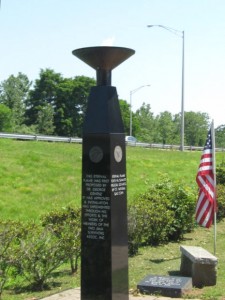 Tags: New Britain, Newington