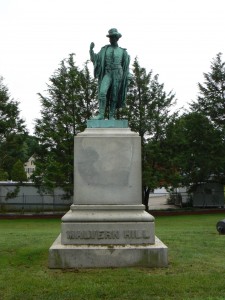 An 1876 monument in Ansonia's Pine Grove Cemetery honors the service of local heroes killed in the Civil War.
The monument features a statue of an artillery officer standing atop a granite base. A dedication on the rear (south) side of the monument reads "Ansonia's tribute to the memory of her sons who gave their lives to their country in the rebellion of 1861-1865."
The base of the south side also lists the battle of Antietam. The north side lists the battle of Malvern Hill (Va.). The east side lists the battle of Mobile (Ala.), while Gettysburg is listed on the west side of the monument's base.
The monument's dedication appears on its rear face because the statue has been reversed. When it was originally dedicated, the monument faced south, toward the main cemetery entrance. The entrance was later moved to the north (Church Street) side of the cemetery, so the statue was turned around.
The statue's right hand also held an artillery ramrod that has been lost over the years. We're not sure if the staining on the north face of the monument's base has been caused by water or paint removal.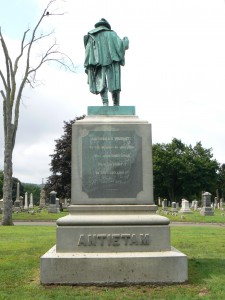 The monument is surrounded by four 30 pounder Parrott rifle cannons that were manufactured in 1861. The southwest cannon was mounted upside-down in its bracket, judging from the date and foundry markings on its side. We're not sure if being mounted upside-down would affect Civil War artillery, but since the Ansonia cannon weighs 2.1 tons, we doubt anyone's going to remount it right-side-up.
The Ansonia monument was designed by sculptor M.J. Walsh, who also created the Soldiers' Monument on the nearby Derby Green.