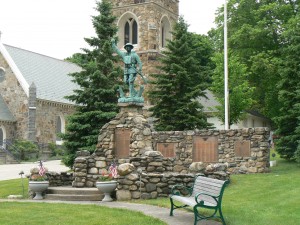 North Canaan honors local veterans and war heroes with a large monument, topped by a Doughboy statue, that was dedicated in 1928.
The monument, at the intersection of East Main Street (Route 44) and Granite Ave.,  features a bench-shaped base comprised of individual stones, rather than the more-common granite base typically seen on war memorials.
A plaque on the front (south) face of the monument bears a dedication "In honor of those who served in the World War from North Canaan," and lists about 111 names of residents who served, and honors three who were killed. The plaque also depicts combat scenes and bears an eagle and an American Legion logo.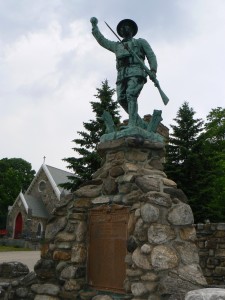 The base of the monument also bears a plaque honoring service in the American Revolution and War of 1812, and a plaque listing about 86 residents who served in the Civil War.
A stone wall matching the appearance of the World War monument's base was added later. Plaques honor residents who served in Korea, World War II and Vietnam. Trees surrounding the monument also bear plaques honoring residents killed in World War I.
The Doughboy statue, by sculptor E.M. Viquesney, is known formally as the "Spirit of the American Doughboy." At least 138 other versions of this statue, which can also be seen atop Bethel's World War monument, are displayed in the United States. The figure was also sold in miniature versions as well as in lamps.
North Canaan originally built the base before deciding later to add the Doughboy statue. A local resident donned his World War I uniform and posed for photos atop the stone base to illustrate how the completed monument would look.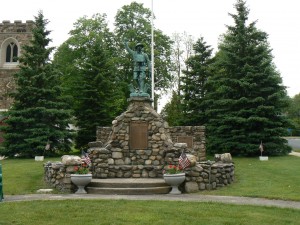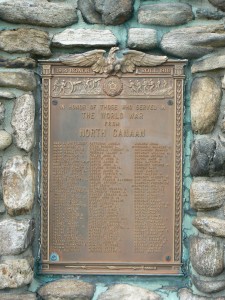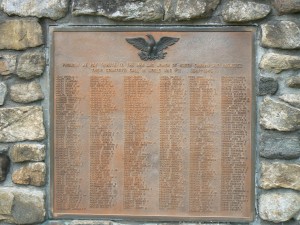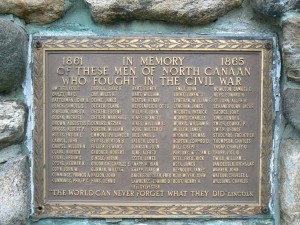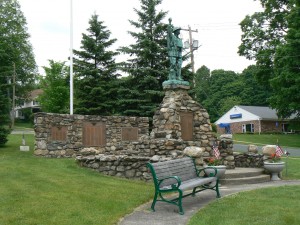 Sources:
Spirit of the American Doughboy Database
Tags: North Canaan