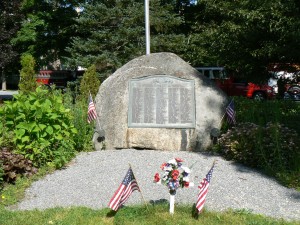 Thompson has honored veterans of the Civil War, the Spanish-American War and the American Revolution with plaques affixed to boulders in two sections of town.
Civil War and Spanish-American War veterans are honored with a plaque on the Thompson Common along Route 193 (Thompson Road). The front (east) face of the plaque bears the inscription "Dedicated by the Town of Thompson to honor its soldiers of the Civil and Spanish Wars."
The monument lists approximately 235 Civil War veterans as well as eight who served in the Spanish-American War. The monument also carries a catch-all dedication reading "This monument honors equally any soldier whose name has been unintentionally omitted."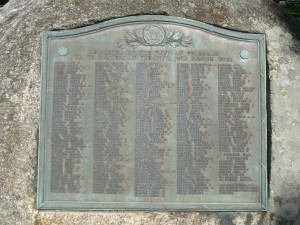 The plaque is not dated, and information about its dedication has not been recorded.
In West Thompson Cemetery, also along Route 193, a monument was dedicated in 1916 to honor the 40 veterans of the American Revolution who are buried in the cemetery. A plaque, affixed to a boulder, lists the veterans and the ranks of officers.
Both monuments have flagpoles nearby.
Source:
Connecticut Historical Society: Civil War Monuments of Connecticut