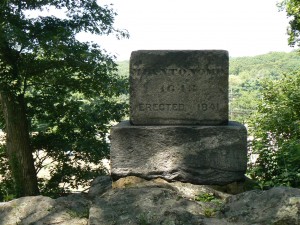 A monument in Norwich's Sachem Park marks the execution and burial spot of Narragansett chief Miantonimo.
The monument was erected in 1841 to mark the hilltop where Miantonimo was killed in 1643 after years of fighting with Mohegans and English settlers. The site had been marked with a stone cairn. Years later, when the conflicts between English settlers and Native Americans were all but forgotten, the stones marking the gravesite were incorporated into the foundation of a farmhouse.
Today, the monument sits on the top of the hill in a small park along Norwich's Elijah Street. The site is well-marked with directional signs on Boswell Avenue (Route 12), and a historical marker (one of many excellent markers in Norwich) explains the significance of the site and the monument.