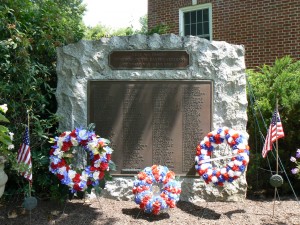 The town of Easton honors veterans of the World Wars and Korea with bronze plaques mounted on stone bases in two locations.
Veterans of World War II and Korea are honored with a large monument outside Town Hall on Center Road. A dedication on the front (northwest) face of the undated monument reads "Lest we forget / In memory of the Easton veterans of World War II and Korea." A larger plaque bears about 212 names, with seven indicating they were killed in one of the conflicts. Both plaques have been mounted on a large, unfinished granite block.
The site is also decorated with two stone planters and a lamppost that's in danger of being swallowed by the surrounding shrubbery.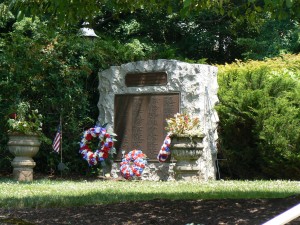 The town's World War I veterans are honored with a large bronze plaque mounted on a boulder along Stepney Road (Route 59). The plaque bears the dedication "Easton remembers the Great War" above three columns listing 34 names of local residents who served in the war. One resident who was killed in the conflict is listed separately under the heading "the fallen."
The boulder sits outside Union Cemetery, which dates back to the 17th Century. The cemetery is reportedly haunted by a ghost known as "White Lady," and local police keep a close eye on the grounds to discourage nocturnal ghost-hunting.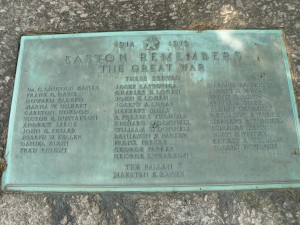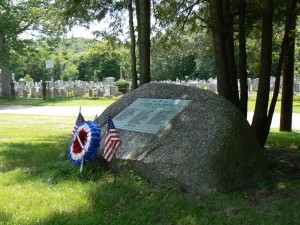 Tags: Easton