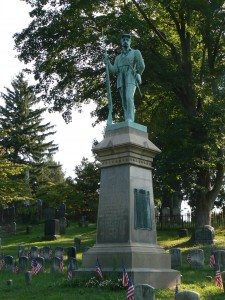 The village of Sleepy Hollow, N.Y.,  honors local Civil War veterans with a granite-and-bronze monument in Sleepy Hollow Cemetery.
The monument, near southwestern corner of the cemetery, was dedicated in 1890 by the local GAR post. Inscriptions on the front (west) face include a Latin dedication, along with "Our Union Soldiers" and the following poem: "While Freedom's name is understood, they shall delight the wise and good; They dared to set their country free and gave her laws equality 1861-1865"
The monument's south, east and north faces feature bronze plaques honoring local veterans. The references to Greenburgh and Mount Pleasant reflect the fact that the Village of Sleepy Hollow lies within Mount Pleasant, which is just north of Greenburgh.
The monument is surrounded by a plot containing graves of Civil War veterans.
The infantry soldier was sculpted by Johnson Marchant Mundy, who was legally blind when he created the figure.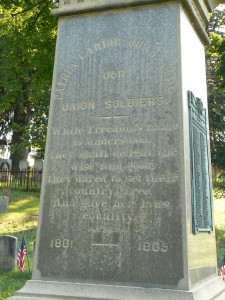 Sleepy Hollow Cemetery, along Route 9, is the final resting place for a range of notables including author Washington Irving (The Legend of Sleepy Hollow, Rip van Winkle), Andrew Carnegie, Walter Chrysler, Elizabeth Arden and others. The cemetery also includes an American Revolution monument (that we didn't photograph because we hadn't read about before our visit), and a thriving deer population.
Source:
Smithsonian American Art Museum, Art Inventories Catalog