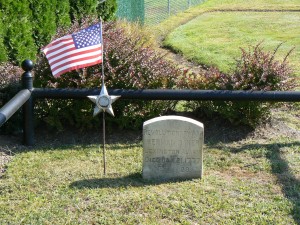 The grave of Sgt. Herman Baker, who served in the American Revolution, rests within the Pratt & Whitney complex on Willow Street in East Hartford.
Baker, a Tolland native who is also listed as "Heman" in some accounts, served with the Lexington Alarm, a local company that rushed to help the Minutemen after the revolution began with the 1775 Battle of Lexington-Concord.
Baker was captured by British forces in 1776, and contracted smallpox while in captivity. He was one of 200 infected Continental soldiers released onto Milford's Gulf Beach on January 1, 1777. While trying to return home, Baker got as far as East Hartford before dying on a farm that, like several others surrounding it, would later be purchased by Pratt & Whitney.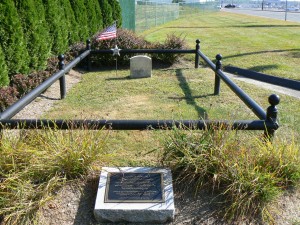 His grave sits on the north side of today's Willow Street, about a third of a mile east of the intersection with Main Street (if you're driving toward Rentschler Field or Cabela's, the grave is on your left).
The grave site is fenced by black piping, and a plaque placed at the western end of the site in 2004 explains the circumstances of Baker's death. The site, which is maintained by Pratt & Whitney's security team also has room for a car to park as well as a stone bench.
We'll look at a Milford monument honoring 46 smallpox-infected soldiers who were released with Baker on Friday.