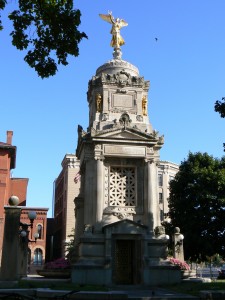 New Britain honors its Civil War veterans with an elaborate monument in the heart of downtown.
The domed monument, at the north end of the city's Central Park, features a gilded allegorical figure representing Victory as well as gilded torches and a variety of Classical architectural decorative elements including columns, seashells and lots of swirls.
Inscriptions on the front (south) face include "With malice toward none, with charity for all, with firmness in the right" from the conclusion of Lincoln's second Inaugural address and "Oh rare and royal was the sacrifice."
Inscriptions on the east face include a "Let us have peace," quote from U.S. Grant as well as a dedication reading "This monument is built in grateful remembrance of the soldiers and sailors who in the war to maintain the Union offered their lives in the cause of mankind that coming generations, taught by their example, may cherish the fruits of their valor and devotion, and make their memory immortal."
The north face bears a quote from U.S. Sen. Daniel Webster, "Liberty and Union, now and forever, one inseparable."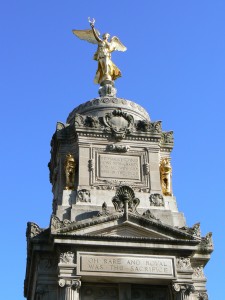 An inscription on the west face lists the years of the Civil War in Roman numerals, as well as "Erected by the Citizens of New Britain 1899" (also in Roman numerals).
The east and west faces are also decorated with U.S. shields with eagles and crossed swords, and well as large lion heads above fountains that were later converted into planters.
Four stone pillars around the base bear the names of Civil War battles and support light fixtures.
The monument's interior is inscribed with the names of local residents who fought in the war.
The allegorical Winged Victory figure holds an olive branch to symbolize the reconciliation of the Union and Confederate states. The figure was replaced in 2000 as part of a restoration performed for the monument's 100th anniversary.
The monument's architect, Ernest Flagg, was also responsible for the Singer Building and St. Luke's Hospital in New York, buildings for the U.S. Naval Academy, and several buildings in Hartford.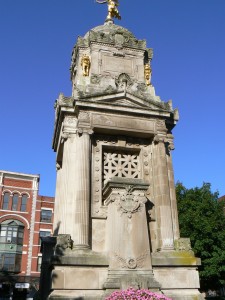 At the south end of the park, three monuments honor New Britain's veterans from World War II, Korea and Vietnam.
The vintage postcard at the bottom of this post was mailed on July 3, 1908 from New Britain to East Hartford, CT. The building behind the monument, a hotel at the time, survives today as New Britain's City Hall.
Source: Connecticut Historical Society: Civil War Monuments of Connecticut
Tags: New Britain