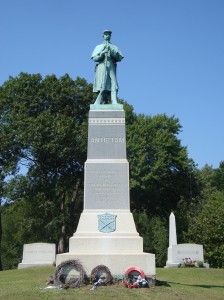 A privately funded monument in Madison's West Cemetery honors veterans of the Civil War as well as the nation's earlier conflicts.
The 1896 monument, featuring a bronze infantry soldier atop a granite base, was sponsored by Vincent Meigs Wilcox, a Madison native who served as a colonel in the 132nd Pennsylvania volunteer infantry regiment.
A dedication on the front (south) face of the monument reads, "To the memory of the soldiers of Madison, presented by Vincent Meigs Wilcox, New York City, Col. 132d Regt. Pa. Vols., born in Madison, October 17, 1828."
The south face also includes a bronze shield with crossed rifles symbolizing infantry units, and the battle of Antietam is inscribed on the monument's shaft.
The east face lists the battle of Fredericksburg on its upper die, and, under the inscription 1861-1865, honors eight officers (including Meigs) by name as well as the inscription "and 158 others."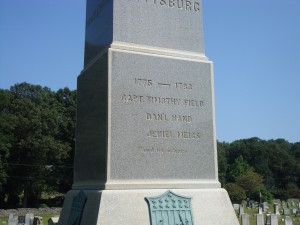 The north face combines the Civil War and the War of 1812 by listing the battle of Chancellorsville, as well as the years 1812-1814. The names of two officers are inscribed above the catch-all "and 32 others."
The west face honors the battle of Gettysburg and the American Revolution. Under the years 1775-1783 are listed the names of three officers, and the inscription "and 65 others."
The monument, sculpted by Henrich Manger, was sponsored by Meigs after a dispute among Madison's citizens about the proper way to honor its Civil War veterans. Like several towns in Connecticut, Madison decided a memorial hall was a more practical tribute than a monument, so Meigs, who had advocated the construction of a monument, decided to build one.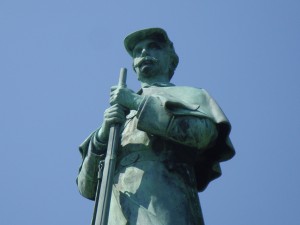 Meigs, grew up in Madison and served in the Connecticut militia in 1856 before moving to Scranton, Penn. He joined the 132nd infantry regiment as a lieutenant colonel, and assumed command of the unit during the Battle of Antietam when the unit's colonel was killed.
During its nine months of service, the regiment also fought in the Second Battle of Bull Run, as well as the battles of South Mountain, Antietam, Fredericksburg and Chancellorsville.
After the war, Meigs was an executive in two New York photography businesses. Unfortunately, he died a few months before the monument's dedication on July 4, 1896.
Source: Connecticut Historical Society: Civil War Monuments of Connecticut