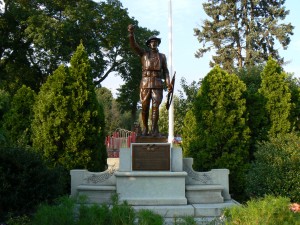 The town of Harrison, N.Y.,  honors World War I veterans with a monument topped by a famous Doughboy statue.
The monument, dedicated in 1939, features a version of a Doughboy statue by sculptor E.M. Viquesney that is known formally as the "Spirit of the American Doughboy." At least 138 other versions of this statue are displayed in the United States, including monuments in North Canaan and Bethel, CT, three monuments in New York and eight in New Jersey.
The Harrison monument stands at the intersection of Harrison Avenue and Heineman Place, in the southwest corner of a park. A plaque on its front (southwest) face reads, "Dedicated to the men and women of the Town of Harrison, New York, who served in the World War." The plaque also credits the efforts of the local VFW post in erecting the monument.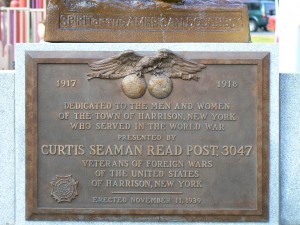 The northeast side of the monument has three plaques. The left plaque lists seven residents who were killed in action and 11 who otherwise died in service. The center plaque has five columns of names listing residents who served in the conflict, and the right plaque has three columns of names.
The monument is a later version of its cousin in North Canaan. In 1934, Viquesney switched from the pressed copper or bronze used in the 1920 design to zinc, which was copper-plated to resemble bronze. The tree stumps at the soldier's feet are shorter, and the "Spirit of the American Doughboy" title is stamped on the front base of the later versions.
The Harrison monument has been cleaned and restored a couple of times in recent years. A bayonet on the soldier's rifle has been lost over the years.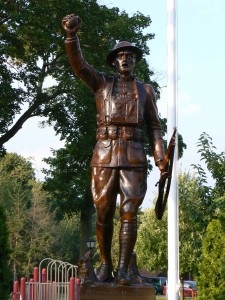 The park also features a gazebo that hosted a wedding during our visit, and an elaborate monument at the eastern end honoring local veterans who served in the nation's wars.
Source: Spirit of the American Doughboy Database