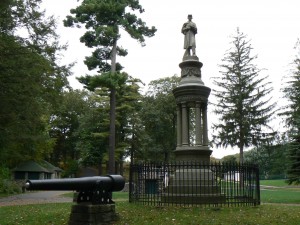 A 1904 granite monument in Seymour's French Memorial Park honors the town's Civil War heroes.
The Soldiers' Monument, whose design is based on a monument dating back to ancient Athens, features a granite infantry soldier standing atop a domed shaft supported by six pillars.
A dedication on the front (south) face reads, "This monument is erected by the citizens of Seymour in honored memory of the defenders of our country 1861-1865." Above the open area created by the column, a band lists the battles of Gettysburg, James Island (near Charleston, S.C.), Atlanta and Antietam.
The vintage postcard near the bottom of this post, mailed in October of 1906 to Howard Avenue in Bridgeport, illustrates how the monument has changed over the years. The round fence, for instance, was added later. The monument also featured a tripod formed by three rifles in the area enclosed by the pillars. The rifles belong to the Seymour Historical Society after being stolen and recovered.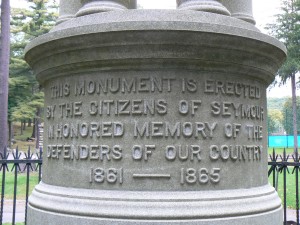 Also, a cannonball pyramid has been removed since the Connecticut Historical Society surveyed the monument in 1993.
The monument also has three 30-pounder Parrott rifles at the base, similar to those found at nearby Civil War monuments in Derby and Ansonia. The markings on the Seymour cannon are difficult to discern, but at least one was forged in 1864 by the West Point Foundry in Cold Spring, N.Y.
A collection of other war monument stands to the east of the Soldiers' Monument. Residents who served in the two World Wars are honored by a large monument with four plaques (three of which are dedicated to World War II). The World War I plaque lists four columns of residents who served in the conflict, and honors 13 residents who were killed. Each of the three World War II plaques has four columns of names and collectively honor 31 residents who were killed.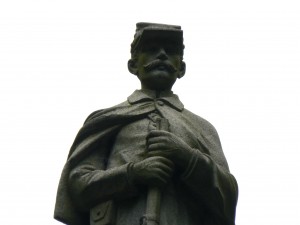 A Vietnam monument has four columns of names and honors two residents who were killed. A Korean War monument has three columns and also honors two residents who were killed. A Revolutionary War monument has two columns of names.
Source: Connecticut Historical Society: Civil War Monuments of Connecticut