A doughboy statue in the southeast corner of New York City's DeWitt Clinton Park honors residents of the Hell's Kitchen neighborhood lost in World War I.
A dedication on the front (south) side of the monument's base features the conclusion of John McCrae's poem "In Flanders Fields." The excerpt reads, "If ye break faith with us who die, We shall not sleep, though poppies grow, In Flanders fields."
The soldier stands facing south, with poppy flowers in his right hand and a rifle slung over his left shoulder. We're assuming flowers were attached to his right wrist with a rubber band to honor Veterans' Day, which took place a week before we visited the park.
A dedication on the north face of the monument's base reads, "Dedicated on Memorial Day 1930 by comrades and friends under the auspices of the Clinton District Monument Association as a memorial to the young folk of this neighborhood who gave their all in the World War."
The 1930 dedication date on the monument's base conflicts with New York's Parks Dept., which lists the monument being dedicated on Veterans' Day in 1929.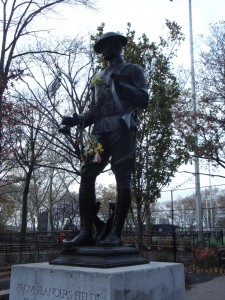 Either way, the statue was created by sculptor Burt W. Johnson, who was also responsible for a number of public works, including a doughboy statue displayed in a park in Queens.
DeWitt Clinton Park, which runs between 52 and 54 streets and between 11 and 12 avenues, was created in 1905 when the city acquired a portion of Clinton's former farm. DeWitt Clinton was a former U.S. senator, mayor of New York City and governor of the state who was largely responsible for New York City's grid-based street pattern, and for advocating the construction of the Erie Canal.
A number of cities and counties have been named for Clinton, as was Castle Clinton, a fort at the southern end of Manhattan that's now a National Park Service site (and hosts the ticket offices for the Statue of Liberty ferries).
The neighborhood around the park is known as Hell's Kitchen and as Clinton (a more genteel name being promoted by community advocates and real estate interests).
Source: New York City Department of Parks & Recreation