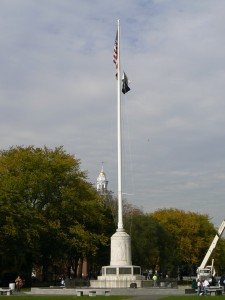 A 1928 flagpole in the center of the New Haven Green's eastern section honors residents lost in the First World War.
The dedication on the east face of the monument's eight-sided base reads, "In grateful memory of her heroic sons who fell in the service of their country, 1917-1918, the city of New Haven erects this staff, 1928."
The other seven sides of the flagpole's base bear bronze plaques that list the names of residents who were killed in the war.
The flagpole's base also features a bas-relief depiction of allegorical and military figures.
The flagpole is surrounded by a fountain that was added to the site in 2003.
The 16-acre New Haven Green was established in 1638 to provide a common grazing yard for the young colony. The green served as the city's first burial ground until 1821. British troops camped on the green during their 1779 invasion of New Haven, and the green remains a popular site for public events and political rallies.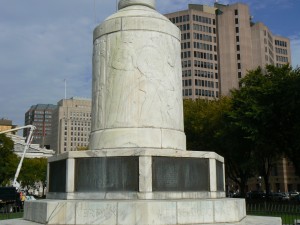 The southeast corner of the green features the Bennett Memorial Fountain, which was erected in 1907. The fountain was funded  by the will of grocery magnate Philo S. Bennett, who also endowed political sciences prizes at several universities.