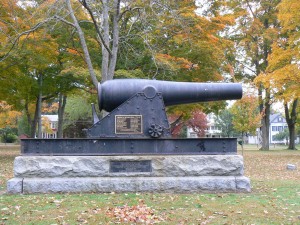 A large cannon honoring Civil War and American Revolution veterans is one of several war memorials on the East Haven green.
The cannon, a Civil War Rodman Gun, was dedicated in 1911. A plaque on the western face of its base reads, "This tribute to the worth of her sons, who have by land and sea offered their lives in defense of their country, is erected by the citizens of East Haven."
The western face of the cannon also features a plaque, dedicated in 2002,  listing the names of 16 residents who died in the American Revolution.
The eastern face has a similar plaque listing 15 men killed during the Civil War, including two who died in the Confederate prisoner of war camp in Andersonville, Georgia.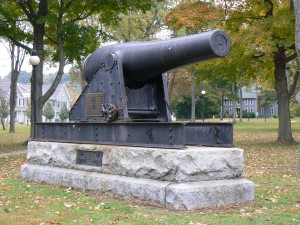 The cannon was one of three originally installed at Fort Nathan Hale in New Haven near the end of the Civil War. During the Spanish-American War, the cannons were moved to Lighthouse Point to help protect New Haven harbor.
After the Spanish-American War, the cannons were donated to East Haven, North Haven and Milford for use as war memorials. The East Haven and North Haven cannon survive, but the Milford Rodman Gun was donated to a World War II scrap metal drive.
The cannon is one of several monuments on East Haven's green. The northwest corner features a 1988 granite pillar, topped with a globe, that is dedicated to all of East Haven's veterans.
Heroes lost in the two World Wars are listed on plaques mounted on pinkish monuments. The World War I plaque lists five names, while the World War II plaque lists 24 names.
A monument in the southwest corner of the green honors the service of local firefighters.
Source: Connecticut Historical Society: Civil War Monuments of Connecticut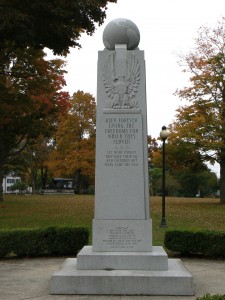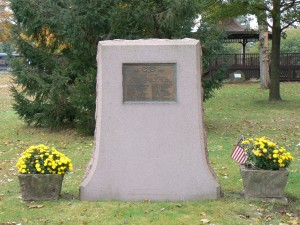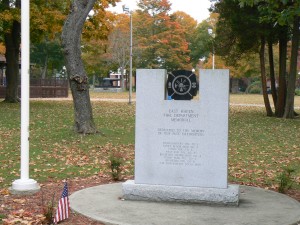 Tags: East Haven