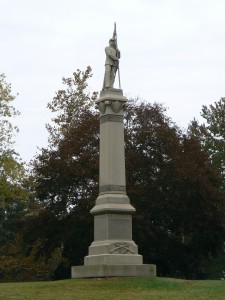 Branford honors its Civil War veterans with a tall 1885 obelisk on a hilltop between Town Hall and the Congregational Church.
The monument features a standard-bearer standing atop a granite obelisk. A dedication on the front (north) face reads, "Branford, to her brave sons who fought in the war of the rebellion, 1861-1865. One country, one flag."
The north face also lists the battles of Antietam and Fredericksburg, and bears a Grand Army of the Republic emblem with two crossed rifles.
The west face lists the battles of Shiloh and Gettysburg, and the south face lists Vicksburg and Port Huron. The east face lists battles in New Berne, N.C, and Chancellorsville (Va.).
Four United States seals decorate the top of the shaft, just below the standard-bearer's feet. The Branford monument is similar to the monument in New Haven's St. Bernard Cemetery, which was produced by the same stonecutter.
A World War I monument on the south side of Branford's Town Hall features a large representation of the Distinguished Service Cross medal. The monument was designed by local resident J. Andre Smith, and was dedicated in 1923 and restored in 2006.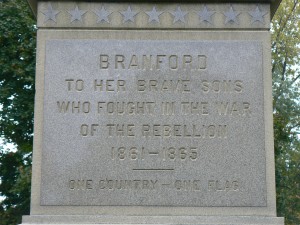 A granite monument beneath a flagpole in the center of the town green honors residents who were disabled or killed in World War II, Korea and Vietnam. The monument is not dated, but was likely dedicated in the late 1950s or early 1960s.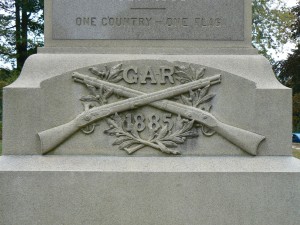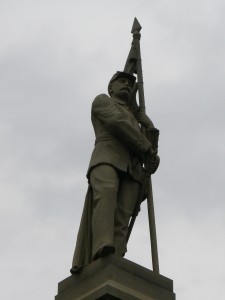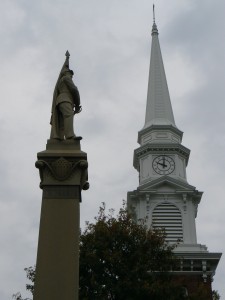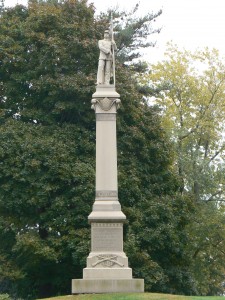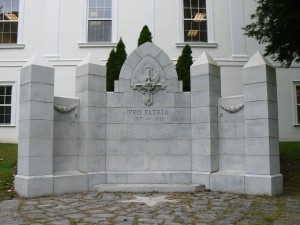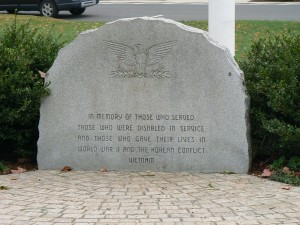 Tags: Branford