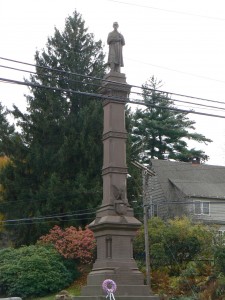 Portland honors its Civil War heroes with an 1872 obelisk made from local brownstone.
The front (northwest) face of the obelisk bears the dedication, "Erected May 30, 1872, by the town of Portland to the memory of her brave sons who gave their lives in defence of the Union during the war of the rebellion 1861-5."
The northwest face also lists the names, regimental affiliations, and the date and location of death for seven residents lost in the conflict. The face also bears a carved eagle atop the Connecticut and U.S. shields, and lists the battles of Atlanta and Gettysburg.
The southwest face bears the names of seven residents, and lists the battles of Cassville (Ga.) and Chancellorsville (Va.) The southeast face lists eight names as well as the battles of Resaca and Peach Tree Creek (both in Georgia). The northeast face lists seven names and the battles of Silver Run (Md.) and Bentonville (N.C.)
Portland was once a leading producer of brownstone,  a form of sandstone that was a popular building material in the late 19th and early 20th centuries.
The Portland Soldiers' Monument stands on a triangular green at the intersection of Main Street (Route 17) and Bartlett Street. The green also features two Civil War cannons. One cannon was manufactured in 1862, and the other was made a year earlier. The 1862 cannon barrel has an impressive cluster of insect nests that we chose not to explore further.
In the vintage postcard near the bottom of this post (which is not postmarked), the cannon are not on the small green, and the Congregational Church has a steeple that is not present today.