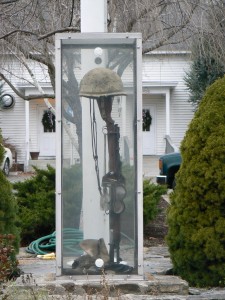 A battlefield cross and a large granite monument in the Centerbrook section of Essex honor local veterans.
The Essex Veterans Memorial, located near the intersections of Main Street, Deep River Road and Westbrook Road, features a granite wall we're estimating to be seven or eight feet high. The west face of the monument honors veterans of World War I and World War II, listing the names of about 180 World War I veterans (including 10 who were killed in the war). The World War II listing, which continues on the east face, lists about 216 names and highlights 8 who were killed.
The east face also honors local veterans who served in Korea and Vietnam, with the Korea section listing about 130 names and the Vietnam section listing about 250. Both sections honor one local hero killed in the respective wars.
Near the granite wall is a battlefield cross memorial encased in a vented plastic box. The battlefield cross, following a military tradition believed to have started in the Civil War, features an inverted rifle, a helmet, dog tags, goggles, a pair of boots and several other personal items.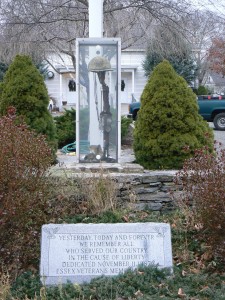 A granite marker near the battlefield cross display reads "Yesterday, today and forever, we honor those who served our country in the cause of liberty. Dedicated November 11, 1987. Essex Veterans Memorial."
Battlefield cross memorials are typically created to honor fallen comrades in the field or at military bases. We're not aware of similar outdoor memorials in Connecticut, and were impressed by the simplicity and power of the Essex memorial.
Thanks to the reader who told us about this memorial.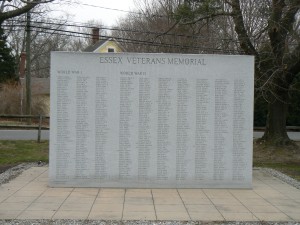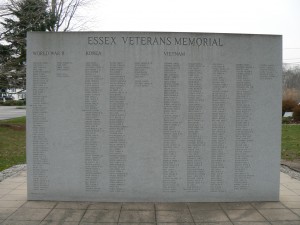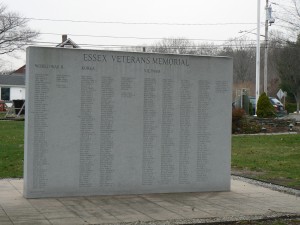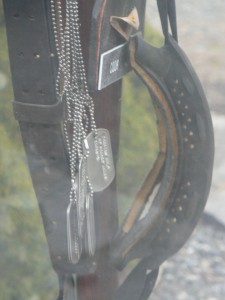 Tags: Centerbrook, Essex