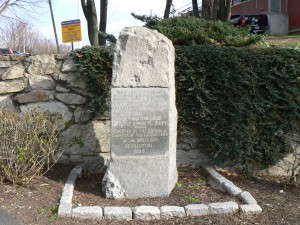 A stone marker near the East Norwalk train station marks the location of the earliest homesteads in Norwalk.
The granite monument bears an inscription on its west face reading "Norwalk founded A.D. 1649. Its earliest homes were planted in the near vicinity of this stone. First meeting house directly opposite west. Erected by the Norwalk chapter of the Daughters of the American Revolution 1895."
The monument stands next to the driveway leading to the westbound Metro-North station, and is not far from the intersection of East Avenue and Fort Point Street (once part of a road connecting Stamford and Fairfield.
Norwalk was purchased from Native Americans in two transactions in 1640 and 1641 (the latter by Fairfield founder Roger Ludlow) and was settled nine years later. The city was incorporated in 1651, and its first meetinghouse was built across from the Founding Monument a year later.