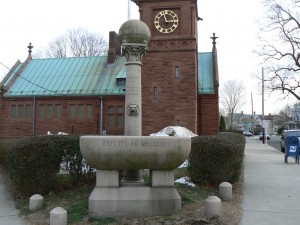 The author of the children's classic "Black Beauty" is honored with a memorial fountain outside the Ansonia Public Library.
The library and the fountain, at the corner of Cottage Avenue and South Cliff Street, were both donated by Caroline Phelps Stokes to honor her parents as well as her grandfather, Ansonia founder Anson Phelps.
The fountain, dedicated in 1892, features a large trough for horses as well as a smaller fountain below a conch-shell spigot for people. A column behind the trough has a dedication reading, "In memoriam, Anna Sewell, author of 'Black Beauty.'" The trough is dated 1891 in Roman numerals, although the fountain and library were dedicated on June 9, 1892.
The globe topping the column bears the inscription, "Blessed are the merciful."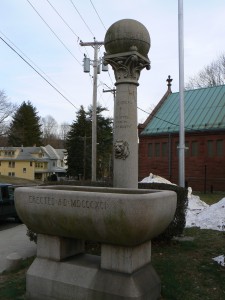 The flagpole behind the fountain honors the local Grand Army of the Republic post. The G.A.R. was the leading fraternal organization for Union Army veterans following the Civil War, and local posts were responsible for the funding of several Civil War monuments and memorial halls within Connecticut.
Stokes, a dedicated philanthropist who funded the construction of several college chapels and made donations to a variety of causes benefitting women, African-Americans, education and animals, funded the fountain to honor Anna Sewell, who had died shortly after the book's publication in 1878.
Contemporary published accounts place the value of Stokes' library donation at between $35,000 and $40,000, which would be nearly $1 million in today's dollars.
Although the library was dedicated in 1892, it did not open until 1896. The building sat vacant for four years following a funding dispute with the municipal government about the library's operating expenses (which local officials agreed to assume in 1896). The library building was expanded in 1960.
UPDATE (Jan. 13, 2010) – The Valley Independent Sentinel is reporting that the Friends of the Ansonia Historical Commission is raising funds to restore the fountain and repair vandalism damage from the 1960s, when miscreants broke the column by attaching a chain to the car. The group plans to first repair the visible cracks, and a later project will repair the trough's water pump.