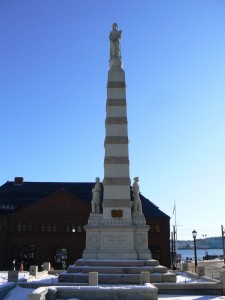 A privately funded, 50-foot tall obelisk in downtown New London honors the city's Civil War veterans.
The 1896 Soldiers' and Sailors' Monument features an obelisk with alternating granite bands topped by an allegorical figure representing Peace. A dedication on its front (west) face reads, "Presented to their native city by the sons of Joseph Lawrence, May 6, 1896." (Joseph Lawrence was a successful New London whaler, and he and his family also founded a number of successful business and philanthropic ventures.)
The west face also bears a bronze plaque with the Connecticut and New London seals.
The dedication on the east face reads, "In memory of New London's soldiers and sailors who fought in defence of their country. Erected on the site of her first fort, fortified 1691, dismantled 1777."
The south face honors the city's proud naval heritage with a statue of a mariner holding a telescope and a rope. The obelisk is engraved with the names of several Civil War, War of 1812 and American Revolution battleships, including the Kearsarge, the Hartford, the Chesapeake, the Constitution and the Trumbull. The south face also lists the word "Defence" as well as the "Don't Give Up the Ship" motto (the dying words of USS Chesapeake commander James Lawrence (who does not appear to be related to the New London Lawrences)).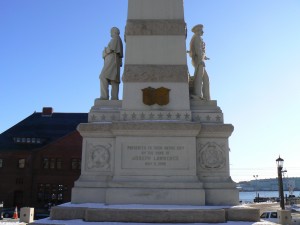 The north face features a Union soldier in a traditional monument pose, with an upright rifle between his hands. The obelisk shaft above him is engraved with several Civil War and American Revolution battle sites, including Gettysburg, Port Hudson (La.), Fredericksburg (Va.), Antietam (Md.), Groton and Bunker Hill.
The west face is also inscribed, "Erected by Sebastian D. Lawrence," who was one of Joseph Lawrence's sons and president of the National Whaling Bank. The family also helped found the city's Lawrence & Memorial Hospital.
The monument is the centerpiece of downtown's Parade plaza, near the intersection of State and Water streets. Renovations to the Parade have opened views of New London Harbor from the plaza, as well as downtown from Union Station (the building east of the monument). The area also features a red schoolhouse in which Nathan Hale taught (the small red building north of the monument, next to  parking garage).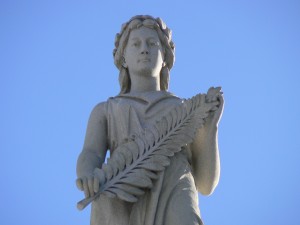 Hale is also honored with a statue in a park we'll highlight later this week.
Source: Connecticut Historical Society: Civil War Monuments of Connecticut