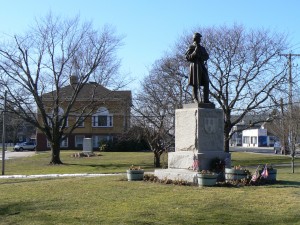 Manchester's Civil War veterans are honored with a monument in the city's Center Memorial Park.
The monument features a bronze infantryman standing atop a granite base inscribed with the Connecticut and United States shields. A dedication on the front (northeast) face reads, "In memory of the soldiers of Manchester who died in the war of the rebellion 1861-1865."
The monument's base is rough-hewn, and free from other inscriptions or dedications. The figure was sculpted by Charles Conrads, the in-house sculptor for James G. Batterson, the Hartford industrialist who supplied many Civil War monuments in the state.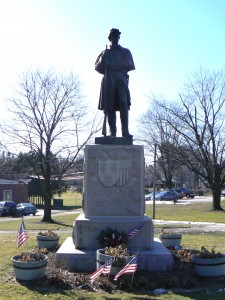 As you can see in the vintage postcard near the bottom of this post, the monument originally faced southeast, toward the park. In 1965, it was turned around to face the intersection of Main Street (Route 83) and Center Street (Routes 6 and 44). The Hall of Records building cited on the postcard serves today as Manchester Probate Court.
Manchester's Soldiers' Monument was dedicated on Sept. 17, 1877, the 15th anniversary of the Battle of Antietam, and was cleaned before a 2005 rededication.
A Spanish-American War monument stands a short walking distance west of the Soldiers' Monument, near the Probate Court. A dedication near the monument's base reads, "A memorial to the boys of Manchester, Conn., who volunteered and served their country in the Spanish American War."
The Cheney family operated one of the country's leading silk mills in South Manchester, and their name decorates many civic buildings and landmarks in the city. Three family members served in the Spanish-American War, and one, Ward C. Cheney, was killed while fighting in the Philippines in 1900.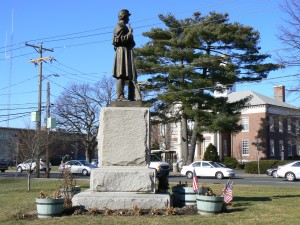 About a half-mile north of the Soldiers' Monument is Manchester's World War I monument, which stands outside Manchester Memorial Hospital. The monument features a bronze plaque mounted on a boulder near the hospital's Haynes Street entrance.
A dedication on the front (north) face  reads, "This tablet is erected in memory of these men of Manchester who made the supreme sacrifice in the World War 1917-1918." Below the dedication, the monument lists the names of 45 residents killed in the conflict.
The hospital was built in 1920, in part as a response to the 1918 influenza outbreak, and was dedicated to World War I veterans. In 1970, it was rededicated to honor all war veterans.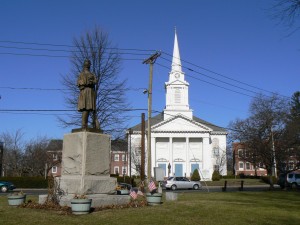 Source: Manchester Historical Society: Veterans Memorials