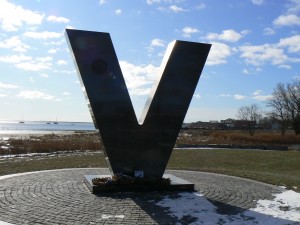 The service of Vietnam veterans from the greater New Haven area is honored with a collection of monuments on New Haven harbor.
The 1988 Vietnam memorial consists of two monuments. The smaller of the two is a polished granite slab with a dedication on its front (north) face reading, "This memorial is dedicated in honor of the men and women who served during the Vietnam War from the surrounding cities and towns: New Haven, East Haven, West Haven, North Haven, Hamden, Orange, [and] Woodbridge."
The slab is also inscribed with five service emblems as well as the Vietnam service medal.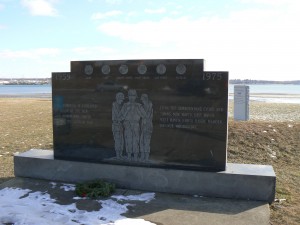 The memorial also features an 11-foot-high, V-shaped monument inscribed with the names of 55 area residents who were killed in the conflict, as well as the names of three men who were prisoners or reported missing.
The left side of the V-shaped memorial features a bronze depiction of the Vietnam service medal.
The Vietnam memorials were created by sculptors Kenneth Polanski and Frank Pannenborg.
The Vietnam memorial is joined by a polished black granite Korean War monument that features a map of the Korean penisula along with an inscription reading, "In honor of those who served during the Korean War from the greater New Haven area. Forgotten war, forgotten no more. Freedom is not free."
Next to the Korean War memorial is a granite monument honoring service in the global war on terrorism that lists the names of four area residents from the First Battalion, 102nd Infantry who were killed in 2004 or 2006.
Another nearby granite monument honors recipients of the Purple Heart medal.
The monuments are part of a waterfront park in the Long Wharf section of New Haven, which was named after piers that were removed when Interstate 95 was constructed. The waterfront near the park was used by British troops leaving New Haven after their 1779 invasion of the city.