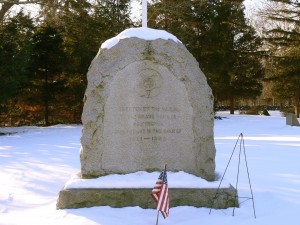 Stonington honors its Civil War veterans with a large granite marker in Evergreen Cemetery.
The boulder-shaped monument was dedicated in 1923, a relatively late date for a Civil War commemoration.  A somewhat-faded dedication on the monument's front (north) face reads, "Erected by the W.R.C. to the brave sons of Stonington who fought in the War of 1861-1865."
The W.R.C. refers to the Woman's Relief Corps, an organization affiliated with the Grand Army of the Republic, the Civil War veterans' group. The monument also features an inscribed GAR logo on its front face.
The monument stands at the center of a veterans' plot that includes four Civil War headstones at its corners. One honors a soldier who was killed at the battle of Port Hudson, La., in 1863, and another honors one who was killed in Fredericksburg, Va., in 1862. The other two headstones honor veterans who survived the war.
Source: Connecticut Historical Society: Civil War Monuments of Connecticut