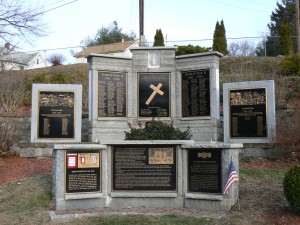 An Ansonia neighborhood honors residents who have served in recent wars with a granite monument on a small hillside.
The Woodbridge Avenue Honor Roll, near the intersection with Visselli Court (named after the first resident lost in World War II), is the latest version of a monument that started informally during the Second World War and has been revised several times since.
Today, the monument features a central monument, with three bronze plaques, dedicated to World War II veterans. The central plaque lists the names of nine neighborhood residents who were killed in the war, and features a large cross and a prayer to the Blessed Mother (who is represented with a small figurine inset into the monument). A dedication plaque on the lower section honors veterans of all of the nation's wars, and features the crests of the military services.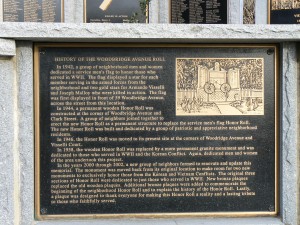 The central plaque is flanked by two markers that collectively list nearly 250 names of local WWII veterans.
The monument also features plaques honor the service of veterans in the Korean and Vietnam wars. The Korean War plaque lists 50 names. The Vietnam plaque lists 56 residents who served in the conflict and highlights two who were killed.
It is striking to see the similarities of the names on the plaques. It is common to see four or five members of a family who served in the same conflict, and it is also common to see the same last name represented on the different plaques – undoubtedly relatives of veterans of the previous war.
Three smaller monuments lower on the hillside describe the history of the monument, which started in 1942 with a flag honoring local veterans and war heroes. A wooden honor roll was built two years later, and was replaced with a granite monument in 1958.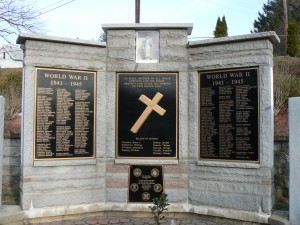 In 2002, the monument was updated and renovated, and moved to its current location. The wooden plaques were replaced with today's bronze markers.