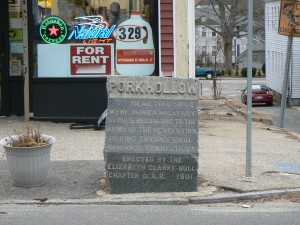 Ansonia honors the hiding of provisions from invading British troops with a monument in its Pork Hollow neighborhood.
The monument, near the corner of Wakelee Avenue and Pork Hollow Street, was dedicated in 1901 to  commemorate an 1777 incident during which military supplies and food were hidden from British troops.
The provisions, stored in a riverfront warehouse near today's downtown Derby, were destined for Continental troops fighting in New York City. When British General William Tryon attempted to seize the supplies, they were removed from the warehouse and hidden in the woods.
A granite marker erected by the Daughters of the American Revolution summarizes the incident with a dedication on its front (west) face reading, "Pork Hollow. Near this spot where hidden military stores belonging to the army of the Revolution during Tryon's raid through Connecticut. Erected by the Elizabeth Clarke Hull chapter D.A.R. 1901."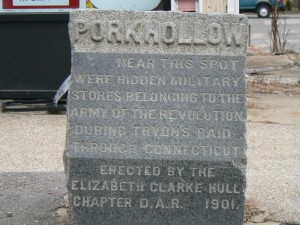 Elizabeth Clarke Hull was a grandmother of Commodore Isaac Hull, a Derby native who commanded the battleship U.S.S. Constitution during the War of 1812.
We thank Marietta for suggesting the Pork Hollow site.
Sources: Electronic Valley: Derby History Quiz
Report of the National Society of the Daughters of the American Revolution, Volume 10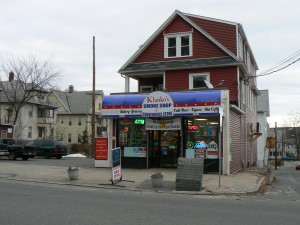 Tags: Ansonia