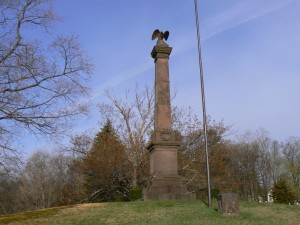 Bristol honors its Civil War veterans with an 1866 brownstone obelisk that's one of the state's earliest monuments commemorating the conflict.
The monument, on a hilltop in the city's West Cemetery, was dedicated in January of 1866, making it perhaps the second Civil War monument in Connecticut.
(The 1863 monument in Kensington is believed to be the first in the nation, and the undated Civil War monument in Plymouth may have been dedicated in 1865 or 1866. The Bristol Soldiers' Monument was one of five dedicated in 1866, along with monuments in Norwich, Cheshire, Northfield, Hartford and North Branford.)
The Bristol monument is a tall obelisk topped by a brownstone eagle. A dedication at the base of the monument's front (east) side reads, "Erected by voluntary contributions in grateful remembrance of the volunteer soldiers of Bristol who gave up their lives in behalf of their country in the war of the great rebellion. The sacrifice was not in vain."
The east face also lists 14 Bristol residents killed in the Civil War. The east face also features the seals of Connecticut and the United States, and a decorative trophy depicting a flag, a rifle, a sword and a cartridge pouch. The east face also honors the battle of Antietam and men who died at the Confederate prisoner of war camp in Andersonville, Ga.
The monument's north face lists the names of 13 residents who died as prisoners of war, and two who were lost at sea. The battles of Fredericksburg (Va.) and Plymouth (N.C.) are also listed.
The west face lists 13 names, and the battles of Fort Wagner (S.C.) and Irish Bend (La.). The south face lists 12 names, and the battles of Gettysburg and New Bern (N.C.).
The monument was supplied by Hartford entrepreneur James Batterson, whose firm was responsible for a number of Civil War monuments in Connecticut and other locations.
Overall, the Bristol monument is good condition considering its age. The lettering on the base of the monument's east face is somewhat weathered and difficult to read, and cracks on the south face appear to have been patched with a material similar to auto-repair putty. Two braces have been affixed to the top of the column, just below the brownstone eagle.
A low brownstone marker in front of the monument is dedicated "To the Unknown Dead," and a marker honoring all veterans has been placed to the west of the monument.
A number of Civil War veterans are buried in the section just east of the Soldiers' Monument.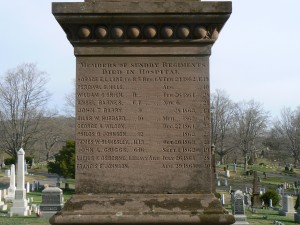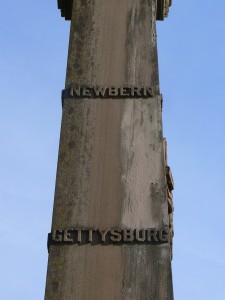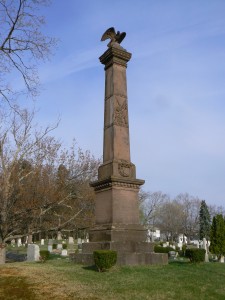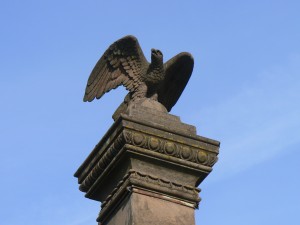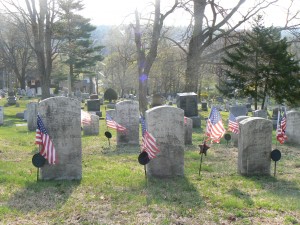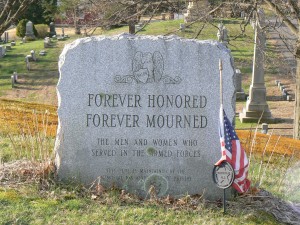 Tags: Bristol