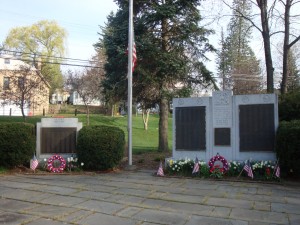 The town of Plymouth honors veterans of recent wars with three monuments in a Main Street park.
The Plymouth Veterans' Monument, near the intersection of Main Street (Route 6) and North Main Street, features a monument honoring the two World Wars and Korea, as well as a separate monument commemorating the Vietnam War.
The two World Wars and Korea are honored with an undated granite monument that features three bronze plaques listing local veterans. An eagle is inscribed on the central column, as is a dedication reading, "Dedicated in memory of the men and women of the town of Plymouth, Conn., who served their country in World War I, World War II [and the] Korean War."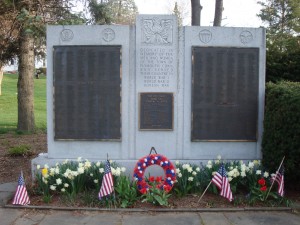 Beneath this dedication, a plaque lists the names of eight residents killed in World War I, 25 killed in World War II and two killed in Korea.
On the left and right sides of the monument, plaques list approximately 200 World War I veterans and about 700 residents who served in World War II.
To the immediate left of the Veteran's Monument, a granite monument honors residents who served in the Vietnam War. Six residents who died in the conflict are honored above a list of an estimated 375 residents who served in the war.
A short walk northeast of the monument, a bronze plaque on a large boulder honors veterans of the two World Wars. The plaque, mounted on the boulder's southeast face, reads, "Dedicated to the loyal sons and daughters of Plymouth, Connecticut, who served their country during World Wars I and II. Erected through the generosity of Judge Andrew W. Granniss 1953."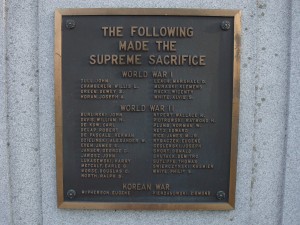 The monuments are not far from the Civil War-era monuments in Terryville and about 2.5 miles west on the Plymouth Green.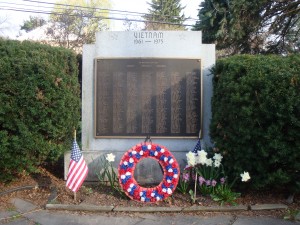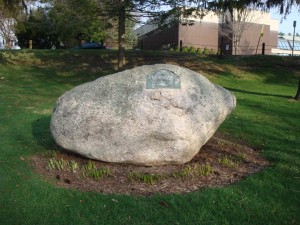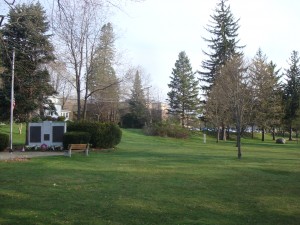 Tags: Plymouth