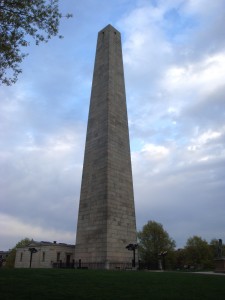 The first major battle of the American Revolution is commemorated with a large granite obelisk in the Charlestown section of Boston.
The 221-foot obelisk was dedicated in 1843 to honor the Battle of Bunker Hill, which was fought on June 17, 1775, on Breed's Hill (more about the hills later).
Inside the monument, 294 steps lead to observation windows just below the monument's peak. The monument was closed at the time of our visit, sparing us the decision about whether to attempt the climb.
The battle was the first major engagement for Continental troops, who were defending a hastily constructed fort against British forces. The Continental troops repelled the attackers twice before an ammunition shortage prompted their retreat.
Although the Continental forces lost the battle, their strong showing and the large number of British casualties (nearly half of the 2,200 troops) demonstrated the viability of the Continental troops and provided a strong moral victory.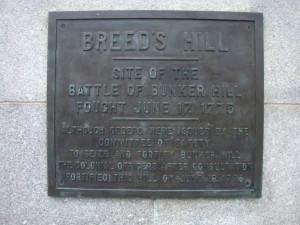 The granite building at the monument's east base was completed in 1903 to display battlefield artifacts.
Four gateways leading to the monument site have been named after nearby states, and feature granite markers honoring a local hero. The stairways are being refurbished with federal stimulus money.
To the immediate west of the monument's base, an 1881 statue  honors Massachusetts native Colonel William Prescott. Prescott, who commanded the Continental troops along with Connecticut's Israel Putnam and Colonel John Stark, is most commonly cited as the officer who gave the legendary command  "Don't fire until you see the whites of their eyes." (Different accounts attribute the quote to Putnam or Stark, or dispute whether anyone said it.)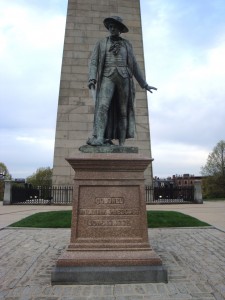 The Prescott statue was created by sculptor William Wetmore Story, a Boston native who gave up a promising law career to pursue sculpture. A number of his classical female figures are displayed in U.S. museums.
Efforts to honor the battle began with a wooden monument erected in 1794 by local Masons to honor Dr. Joseph Warren, who was killed during the battle.
A movement began to erect a more prominent monument, and the obelisk's cornerstone was laid in 1825 during ceremonies marking the battle's 50th anniversary.
Funding challenges stalled construction over the years, and the committee raised funds for the monument by selling a good chunk of the battlefield for real estate development.
Confusion about the battle's name and location started before the first shot had been fired. Prescott had been ordered to fortify nearby Bunker Hill, but the Continental commanders decided Breed's Hill would be more suitable. A British cartographer mapping the battlefield reversed the names of the two hills, and Breed's Hill was consigned to the historical shadow of its more famous neighbor.
The Bunker Hill site was administered by a private association until it was turned over the Commonwealth of Massachusetts in 1919. In 1976, the site was transferred to the National Park Service and added to Boston's Freedom Trail.