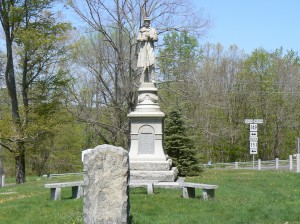 East Haddam honors its Civil War veterans with a monument on the Moodus Green.
The monument, dedicated in 1900, features a granite infantryman facing south. A dedication on its south face reads, "In honored memory of the brave defenders of our country in its hour of peril 1861-1865."
The south face also honors the Battle of Gettysburg.
The east face lists the Battle of Antietam, and honors 10 residents lost in the war. The north face lists Appomattox and 14 residents, and the west face lists the Battle of Petersburg (Va.) and 10 residents.
Because the granite panels inscribed with the names were polished, the inscribed names are very difficult to discern.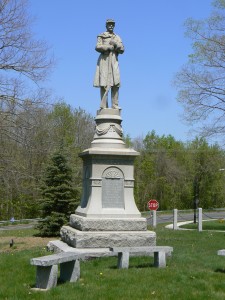 The monument's square base supports a round column draped with banners. The column is topped by the infantry figure, whose left foot extends slightly beyond the base.
The monument stands on the small green at the intersection of East Haddam Moodus Road (Route 149) and Plains Road (Route 151) in the Moodus section of East Haddam.
Immediately south of the Soldiers' Monument is another monument honoring residents lost in World War I. A bronze plaque titled "Roll of Honor" is topped with a large eagle, the United States shield and several flags, and emblems representing the Army and the Navy.
The plaque honors one resident who died in service during the war. In the section listing Army veterans, 67 residents are honored. The monument further lists 22 residents who served with the Navy, and one who provided support services with the Y.M.C.A.