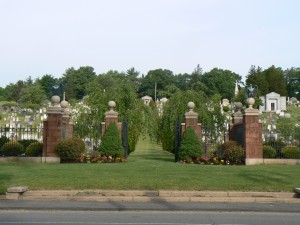 Simsbury honors those lost in the nation's wars with two monuments in the center of town.
The Memorial Gateway at the entrance of Simsbury Cemetery on Hopmeadow Street (Route 10), dedicated in 1923, honors residents killed in the Civil War and World War I. The gateway features two curved fences as well as pillars topped with bronze eagles.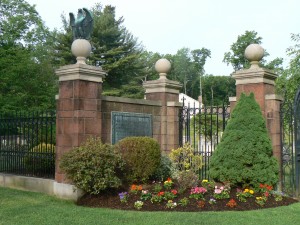 Plaques are mounted within the brick gateway to honor local war heroes. The south plaque, which honors Civil War veterans, bears a dedication reading, "Erected to the memory and honor of those citizens of Simsbury who, by sacrifice and service during the Civil War, helped to maintain the integrity of the Union 1861-1865."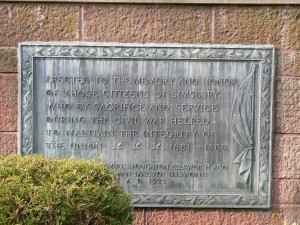 The north plaque bears a similar dedication to residents who served in World War I.
A large marker just inside the cemetery ground marks the location of the first meeting house in Simsbury, which was erected in 1683 and stood until 1739.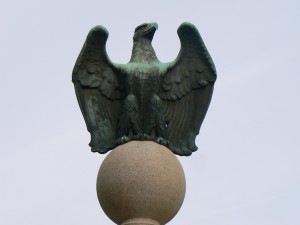 Across the street from the cemetery, a war memorial outside Eno Memorial Hall honors veterans of all wars. A dedication on the monument's south side reads, "In memory of those from Simsbury who gave their lives in the service of their country. These dead shall not have died in vain."
The monument lists five residents who were killed in World War I, 17 who died in World War II, two who died in Korea, and three who were lost in Vietnam.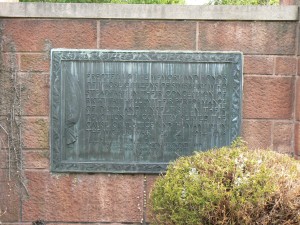 Simsbury's Civil War veterans are also honored with a monument that will be highlighted in a future post.