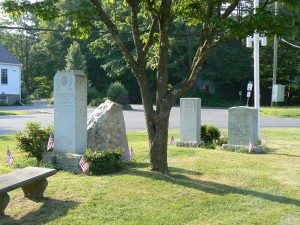 Monroe honors the wartime service of its veterans with several monuments near the town green.
Four monuments at the intersection of Fan Hill Road and Route 111 honor veterans of the two world wars, Korea and Vietnam.
Monroe's World War II monument, dedicated in 1953, is a granite marker with a fluted top. The monument's north face bears the names of two residents lost in the conflict, and commemorates all residents who served.
A boulder honoring World War I veterans, dedicated in 1931, stands immediately behind the World War II monument. A plaque on the monument's south face bears the dedication "In grateful recognition of the valor and devotion of the young men of this community who served in the world war for liberty and justice 1914-1919." The plaque lists 24 names, and indicates that two were killed in the war.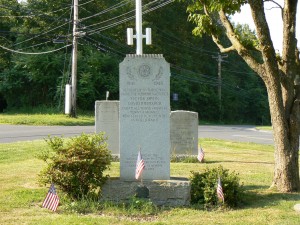 Just south of the World War I boulder, two monuments honor the service of Korean and Vietnam war veterans. The 1984 Vietnam memorial lists one resident lost in the conflict, and the 1985 Korean War memorial lists one resident who was killed and two who were wounded.
A short distance away, a granite flagpole base in front of Monroe's municipal center further honors the town's veterans. The monument's left wing bears a dedication reading, "To all of those veterans from the town of Monroe who served their country: Honor. Hope. Remembrance.  Gratitude. Peace and eternal rest."
The monument's right wing lists the nation's wars and honors those who have made the supreme sacrifice, including one resident lost in the current Iraq conflict.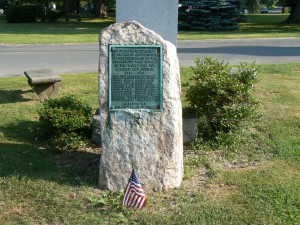 On the south side of the Monroe green, a 2008 monument commemorates the 1781 encampment of French cavalry forces commanded by the duc de Lauzunon.