Stonington honors the successful defense of the town against British warships during the War of 1812 with a granite monument.
The 1830 obelisk, topped with a naval shell, stands in the borough of Stonington's Cannon Square.  An inscription on the monument's north face reads, "These two guns of 18 pounds caliber were heroically used to repel the attack on Stonington of the  English naval vessels Ramilies, 74 guns, Pactolus, 44, Dispatch, 20, Nimrod, 20 and the bomb ship Terror. August 10, 1814."
The monument's north face also contains the Latin inscription "In perpetuam rei memoriam" (In everlasting remembrance of the event).
The monument's south face honors "the defenders of the fort," and lists the names of 10 residents who presumably manned the cannons during the English attack.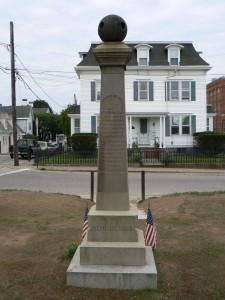 The monument commemorates the defense of Stonington during a British naval bombardment that lasted between August 9-12, 1814. A group of five British warships anchored off Stonington and shelled the city. No lives were lost in the attack, but 40 local buildings were damaged.
The two cannons flanking the monument were returned to the monument site on Tuesday, August 3, after a two-year restoration at Texas A&M. The 18-pounder cannons, cast at West Point Foundry in the 1780s, will be rededicated in ceremonies Saturday.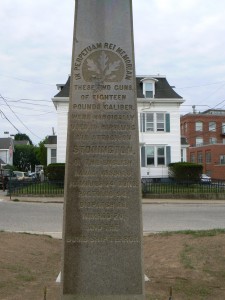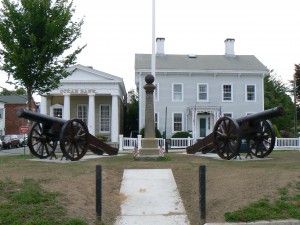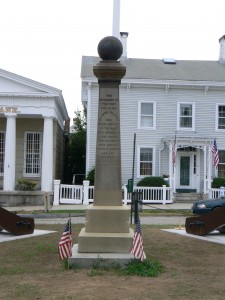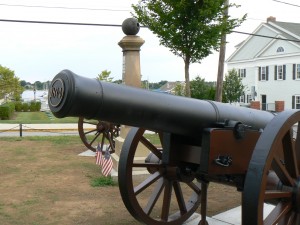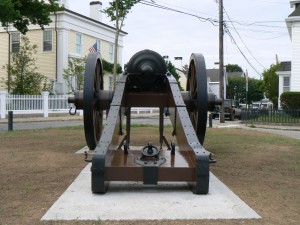 Tags: Stonington