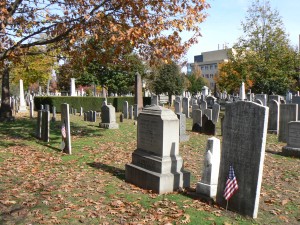 New Haven's Grove Street Cemetery is one of the nation's first suburban, park-like cemeteries.
The cemetery marks the final resting place of many notable Connecticut residents.
Some historical figures buried there include statesman Roger Sherman, Civil War Admiral Andrew Hull Foote (who is also honored on Cheshire's Soldiers'  Monument); David Humphreys (a Derby native and American Revolution general who served as an aide-de-camp to George Washington and an ambassador); Noah Webster; inventors Eli Whitney and Charles Goodyear; and a large number of New Haven settlers and Yale professors and leaders.
Free guided tours are offered on weekends between April and mid-November.
Roger Sherman
Cemetery History
The cemetery, still officially known as the New Haven City Burial Ground, was chartered in 1797 to provide an alternative to burials at the upper end of the New Haven Green.
Concerns about health and overcrowding at the existing burial ground (beneath and behind the location of Center Church) prompted James Hillhouse to purchase land from two farm that were, at the time, located outside the settled sections of downtown New Haven.
The cemetery was notable for its then-suburban location and its early use of family plots for internments.
By 1821, headstones from the original burial ground were transferred to Grove Street Cemetery and placed along the cemetery's north and west walls in alphabetical order.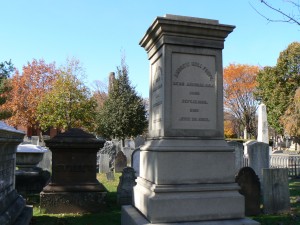 Over the years, the cemetery purchased adjoining land and ceded sections to the city to form its current configuration.