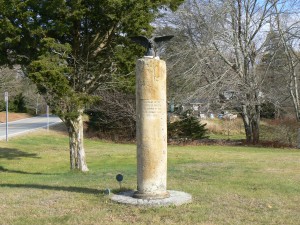 Preston honors American Revolution veterans with a simple monument on a small green.
The monument, at the intersection of Shetucket Turnpike (Route 165) and Old Shetucket Turnpike, features an eagle atop a granite pillar.
A dedication on the front (west) side of the pillar reads, "In memory of the patriots of Preston who served in the Revolutionary War 1775-1781."
The pillar, a former farm implement that was pulled by oxen to flatten fields, stands atop a former millstone.
An application to list the Preston City Historic District on the National Register of Historic Places provides a 1967 dedication date for the monument.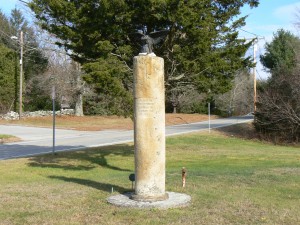 The Preston memorial is nearly identical to a veterans' monument in the Gales Ferry section of Ledyard.
Tags: Preston