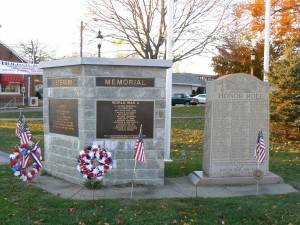 Niantic honors veterans of the 20th Century's wars with two monuments on Liberty Green.
Liberty Green, in the Niantic section of East Lyme, features a World War I Honor Roll as well as an undated memorial honoring veterans lost in World War II, Korea and Vietnam.
The World War Honor Roll bears a dedication reading, "Erected in honor of those who answered their country's call to serve for God and humanity in the, World War 1917 – 1918, by the citizens of the Town of East Lyme, Conn."
The Honor Roll lists the names of 114 local veterans, and highlights three who were killed in the conflict.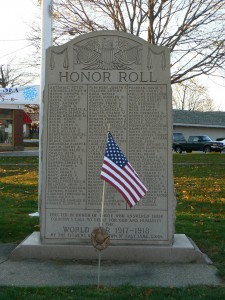 Next to the World War Honor Roll, a memorial constructed from granite blocks features bronze plaques honoring veterans and heroes of World War II, Korea and Vietnam.
The World War II plaque features the dedication, "A lasting tribute to these men we loved and lost," and lists 10 names.
The plaque also honors "all our veterans who so bravely fought when our nation was in need."
The Korea plaque honors one resident who was killed in the conflict.
The Vietnam plaque honors two residents who were killed, and bears a dedication that includes "God bless these men who could give no more."
Liberty Green, at the intersection of Main Street (Route 156) and Pennsylvania Avenue (Route 161), resulted from a private donation of land in 1918 to create a memorial to the town's World War veterans.