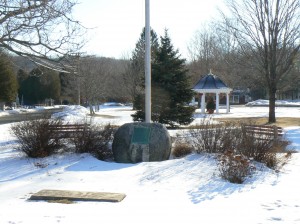 Monroe honors World War I veterans from the Stepney section with a monument on the Stepney Green.
The undated monument, near the intersection of Main Street (Route 25) and Pepper Street, stands at the northern end of the green.
A bronze plaque mounted on a boulder bears the dedication, "In grateful recognition of the valor and devotion of the young men of this community who served in the World War for liberty and justice 1918-1919."
The monument lists the names of 24 residents who served in the conflict, and highlights two who died.
The Stepney Green was used as a militia ground and public gathering space when settlers from North Stratford settled what would eventually become the town of Monroe. In 1817, the green was officially designated as public land.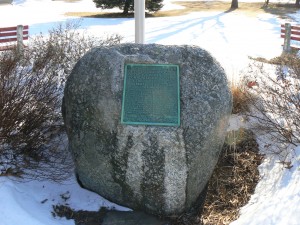 The construction of the Housatonic Railroad in the 1840s helped the Stepney area flourish as a local retail and manufacturing center.
In 1861, people opposed to the Civil War gathered on the green for peace rally that was broken up by war supporters.
The green's surroundings include two churches and an historic cemetery established in 1794.