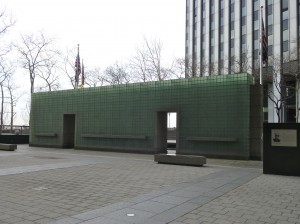 New York City honors its Vietnam heroes and veterans with a downtown monument and plaza.
Vietnam Veterans Memorial Plaza, between Water and South streets (just north of Broad Street), was dedicated in 1985 and renovated in 2001.
A 66-foot-long glass wall at the heart of the plaza honors New York's Vietnam veterans. Glass blocks, illuminated at night, are inscribed with more than 80 excerpts from letters written by soldiers during the war, as well as news accounts and quotes from political leaders during the Vietnam era.
The wall also has a granite shelf upon which visitors have left personal mementoes.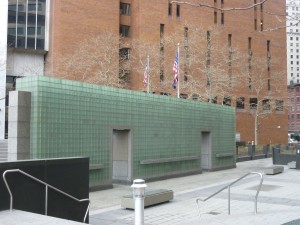 The memorial, built on the site of the former Jeannette Park (named after a ship that sank during a 1879 Arctic exploration) was designed by architects Peter Wormser and William Fellows, and writer and Vietnam veteran Joseph Ferrandino.
During the 2001 restoration, a long Walk of Honor was built featuring a dozen granite plinths with plaques listing 1,741 New Yorkers who had died in the war.
A fountain was also added during the restoration, along with markers (such as a large map of Vietnam) that provide information about the conflict and the men and women who served in it.