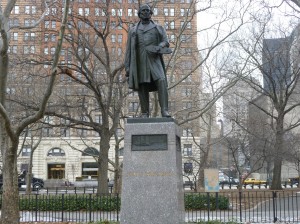 The designer of the Civil War ironclad ship the Monitor is honored with a statue in New York City's Battery Park.
The 1903 John Ericsson Memorial honors the Swedish inventor who designed the Monitor, the first Union ironclad warship.
Ericsson, who also invented the screw propeller, is depicted holding a model of the Monitor. Bronze plaques in the monument's granite base depict a number of Ericsson's designs.
A dedication on the north face of the monument's base reads, "The City of New York erects this statue to the memory of a citizen whose genius has contributed to the greatness of the republic and the progress of the world."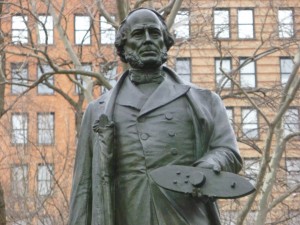 The statue was created by sculptor Jonathan Scott Hartley, whose other works include three of the nine busts at the Library of Congress' Jefferson Building.
Hartley's first statue of Ericsson was dedicated in 1893, but Hartley, not satisfied with the original work, created a newer version that was dedicated in 1903.
The statue, which carries the 1893 date on its pedestal, was restored in 1996.
Ericsson is also honored with a bust on the base of a 1906 monument in New Haven honoring shipping and railroad investor Cornelius S. Bushnell, who help finance the development of the Monitor.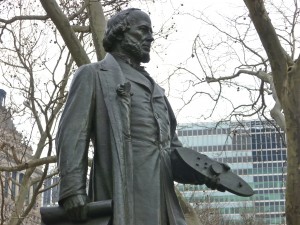 Tags: New York