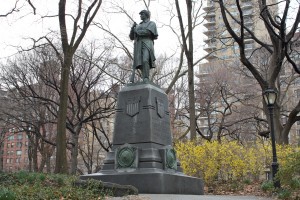 New York honors the Civil War service of a notable National Guard Unit with a monument in Central Park.
The 7th Regiment Monument, dedicated in 1874, features a bronze soldier standing atop a granite base. A dedication on the east face of the monument's base reads, "The Seventh Regiment Memorial of 1861-1865."
The north and south faces bear a dedication reading, "In honor of the members of the Seventh Regiment, N.G.S.N.Y., fifty eight in number, who gave their lives in defence of the Union, 1861-1865."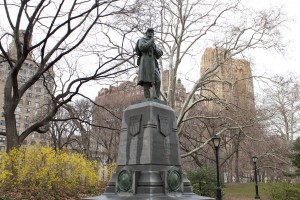 The west face reads, "Erected by the Seventh Regiment National Guards S.N.Y., MDCCCLXXIII" (1873).
The four sides of the monument's base also feature bronze trophies inscribed with the regiment's motto, the Latin phrase "pro patria et gloria" (for country and glory).
The monument stands in its original location near the park's West Loop, not far from the band shell.
The regiment traces its roots to 1806, when it was organized as a militia unit. After protecting New York harbor during the War of 1812 and suppressing a number of local riots, the unit served in the Civil War and both World Wars.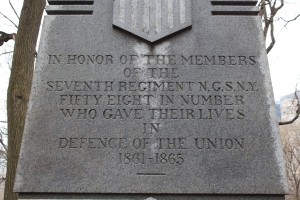 The 7th Regiment was renamed the 107th during World War I, and its service during that conflict is honored with a monument on Fifth Avenue and East 67 Street.
The unit's Civil War monument was created by sculptor John Quincy Adams Ward, whose other works include the statue of Roscoe Conkling in New York's Madison Square Park.
In the stereo image titled, "A View of Central Park," the gentleman wearing an apron and holding a large mallet may be Ward. He is not identified in the image, but both Ward and this person had generous beards, and Ward probably wore an apron and used a large mallet at least part of the time.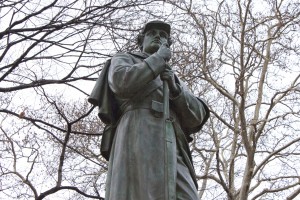 The image also provides an interesting view of how Central Park West has changed since the monument's dedication.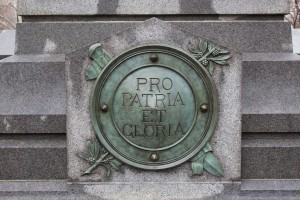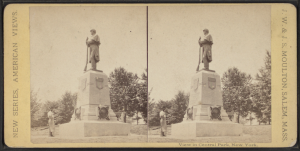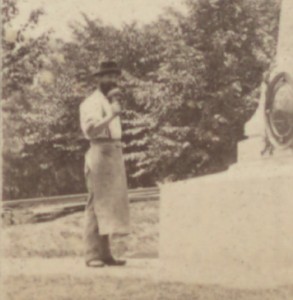 Tags: New York