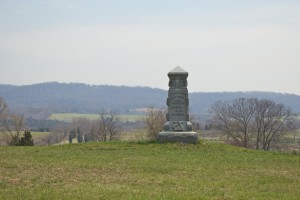 The 8th Regiment, Connecticut Volunteer Infantry, has a monument at Antietam along Harpers Ferry Road.
The monument near a large granite obelisk honoring the 9th New York (Hawkins' Zouaves).
The west side of the monument bears an inscription reading, "8th Conn. Vol. Infantry. 2d Brigade, 3d Division, 9th Corps."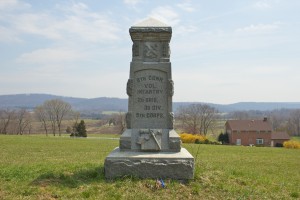 The east side features the CT seal and an inscription reading, "Advanced position, 8th Conn. V.I., Sept 17, 1862. Engaged 400. Killed and wounded 194." Or so we've read.
The 8th CT was mustered into service in October of 1861, and served throughout the war. At Antietam, the 8th fought as part of the Army of the Potomac's left flank.
The walkway also includes a cannon honoring the mortal wounding of Isaac Rodman of Rhode Island, who commanded the division during the battle.